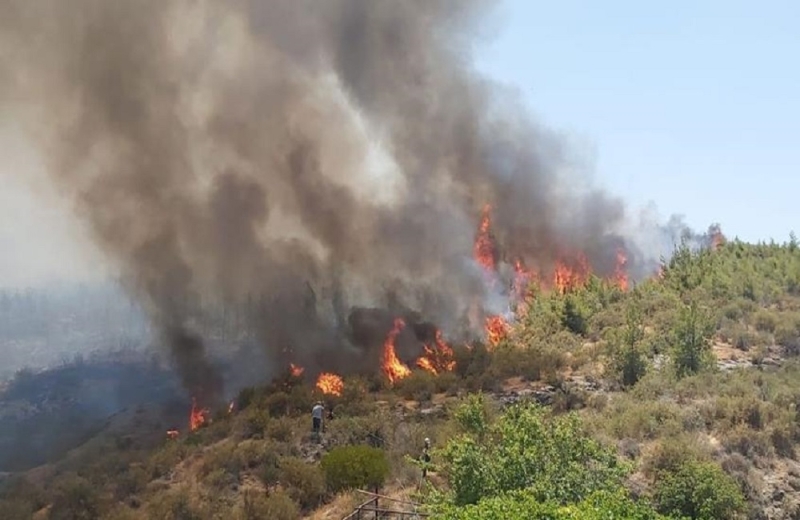 The fire was rekindled near the village of Flamoudi due to strong winds, according to a statement by the "prefect" of Trikomo, Ertugrul Toroslou.
in extinguishing the fire. He also said that it was decided to evacuate the village as a precaution after the assessment of the situation by the "Committee for Disasters and Emergency".
The Iskele municipality said in a statement that the fire in the Mersinlik area, which was reported to have been brought under control, broke out again under the influence of the wind.
There is a danger
However, the "Minister of Agriculture" stated that the danger continues, despite the announcement about the control of the fire, according to what is transmitted by KYPE.
It is wrong to say that the fire was brought under control, "Agriculture Minister" Dursun Oguz told Yeni Duzen when asked to comment on the announcement previously made by the "director" of the "fire department" that the fire was brought under control.
< According to the post on the website, the situation is much better than yesterday, however there are several places where the flames continue. There, he said, firefighting efforts continue while in other areas full firefighting efforts. He noted that there is a possibility that the winds will increase tonight as well. "Danger continues to exist."
Mr. Oguz recently said that there is a resurgence in Madras and several ground fire brigades have been directed there. The resurgence, he said, was spotted by a helicopter in the air and ground forces were alerted. According to him, due to the fire that broke out in Paphos, the helicopters from the Greek side headed towards there, but in the occupied areas, the helicopters that came from Turkey continue to operate from the air.
The "mayor" of Trikomo appealed for help as the flames near the Monastery of Panagia Tochniou in Mantres were rekindled. In the first phase, he said, two tankers of the "municipality" and two "fire brigades" rushed to help but more tankers are urgently needed.
The Turkish Cypriot side does not accept land help
According to KYPE, the Turkish Cypriot side replied that there is currently no need for ground forces in the intention that the Republic repeated through the UN twice today, once just in the afternoon.
Source: politis.com.cy