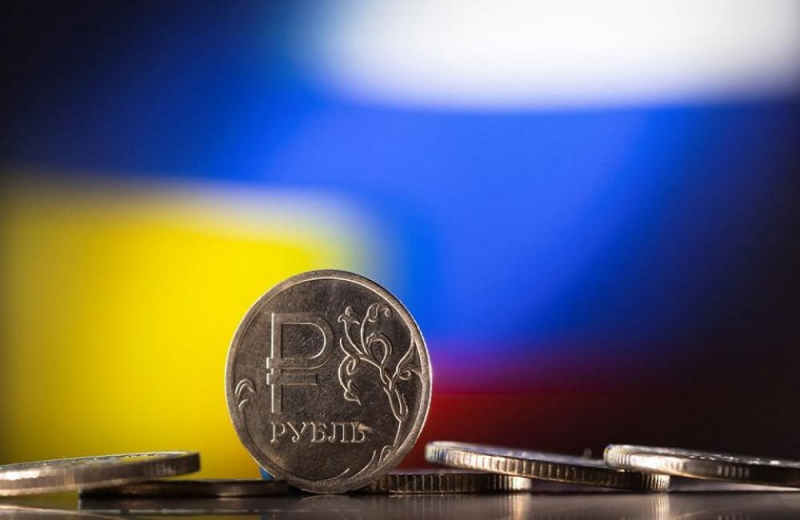 Russian citizens are facing a new reality, after the imposition of international sanctions on Russia, due to the Russian invasion of Ukraine last Thursday. The ruble is falling, inflation and interest rates have soared, and foreign suppliers, ranging from food to cars, are vowing to stop trading with Russia. Due to US and EU sanctions, 7 banks have been excluded from the international SWIFT messaging system.
According to Bloomberg, imposed capital controls, higher interest rates and other emergency measures have helped slowing down a massive bank-run that drained $ 14 billion in one day
Household resilience is critical to Russia's $ 1.5 trillion economy, with consumption accounting for more than half of the economy.
The Central Bank has ordered a series of measures to prevent the bank-run, from more than doubling the key interest rate to 20%, in the emergency move to freeze local equity trading from Friday. Russia has also temporarily banned foreigners from selling Russian assets and asked exporters to sell 80 percent of their profits in foreign currency.
But these moves also come at a price. The Russian economy could shrink by 3-5%, provided energy exports are allowed to continue, according to Russian economist Ivan Tchakarov of Citigroup Inc. Holidays in the supply chain will have an even greater impact on inflation than the devaluation of the ruble, he said.
Bloomberg economist Scott Johnson says high interest rates and uncertainty will hurt investment. The terrible fall of the ruble will push inflation even higher, hitting purchasing power.
Meanwhile, Russian airlines have been excluded from most European and North American airspace, and half of its fleet could be stranded as sanctions make it impossible to lease aircraft. Danish shipping giant A.P. Moller-Maersk A/S has suspended indefinite bookings to and from Russia this week, excluding medical supplies and food supplies, and has warned of global delays as a result of sanctions.
At the first sign of inflation due to the war, the weekly price increase almost doubled to 0.45%, in the week ending February 25, before most of the sanctions were announced.
Volvo, Harley-Davidson and General Motors have announced that they are suspending shipments to Russia. The largest importer of alcohol said it would stop deliveries as the ruble crumbled, according to Russia's state-run Tass news agency.
At the same time, the country's largest food retailer, X5 Retail Group NV , announced that its stores store grain for up to two months and other basic items in several areas to meet demand.
The Federal Antimonopoly Service said Tuesday that several supermarkets have agreed to limit the 5% increase in socially important goods.
Other costs are high, however. "Prices for electronic products and most imported goods have risen by an average of 20-30% since the beginning of last week," said Boris Ovchinnikov, co-founder of Data Insight.
Meanwhile, Prime Minister Mikhail Misiustin commented on state television on Tuesday that Russia had been preparing for years for the threat of sanctions. However, his deputy, Yuri Borisov, said the size of the sanctions was difficult to predict, according to an Interfax report released on Wednesday.
and sanctions over Crimea annexation by the Kremlin have slashed the ruble to record lows. This may mean that they are even less likely to absorb the shock of the latest wave of inflation.
The effects of the 1.4 trillion withdrawal. rubles ($ 14 billion) on Friday, may make time to look. In the ruble crisis of 2014, it took weeks before the first major bank collapsed.
Since then, Bloomberg notes, the central bank, under Governor Elvira Nabiulina, has spent years eliminating undercapitalized institutions, resulting in the banking sector to be more prepared this time.
Russian banks used about $ 60 billion to finance repurchase agreements on Tuesday, accounting for about 10 percent of the country's total deposit, and stressing how much liquidity they are under, according to Bloomberg report by Tomasz Noetzel. To prevent cash leakage, Alfa-Bank, Russia's largest private bank, raised interest rates on ruble deposits to 20%, which resulted in 100,000 new one-day maturities worth a total of 100 billion rubles. It also offers quarterly dollar deposits with an annual interest rate of 8%. At the same time, the sanctioned VTB Group has doubled its deposit rates in a week.
Association of Russian Banks. "The first days of increased panic are over, but the next moves of the people are unpredictable. "People have started thinking in the long run, but they can not predict everything," he said.