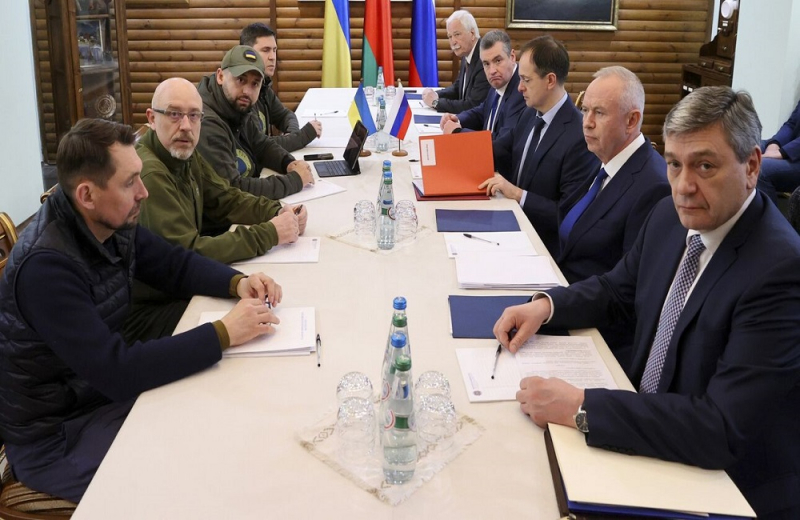 "Talks between Moscow and Kiev will take place on Monday," Dmitry Peshkov, a spokesman for the Russian presidency, told RIA Novosti.
days summit between Vladimir Putin and Volodymyr Zelensky. The Kremlin is asking for details of Kiev's expectations as Russian attacks on several Ukrainian cities intensify and the number of civilian casualties rises.
Kremlin spokesman Dmitry Peshkov told Interfax that Turkish Foreign Minister Mevlüt Çavuşoλουlu had said in a telephone conversation with Turkish Prime Minister Recep Tayyip Erdoγan that he was not opposed to a meeting with Zellen."We have said many times that no one rules out the possibility of Vladimir Putin meeting with President Zelensky. "But we need to understand what the outcome of this meeting will be and what will be discussed at it," Peshkov said when asked if the Russian side was really willing for such a meeting. the ongoing talks with the Russian delegation headed by Vladimir Medinsky, discuss in particular the conditions under which a Putin meeting can take place & # 8211; Zelensky, but it is too early to talk about the results.
"To this end, the delegations, led by Medinski, are working. "It's still too early to talk about the results," Peshkov said. in the foreseeable future, with the Ukrainian side doing everything possible to make it happen as soon as possible. "
"Ukraine continues to look for a place to hold leaders-level talks on security guarantees and to draw up a package of agreements that will take into account only important positions for Ukraine," he said. "If the presidents agree, then the presidents will be able to meet and work out the final provisions of the peace treaty," said the Ukrainian diplomat. At least 596 civilians dead, including 43 children today Sunday
The United Nations announced today, Sunday, that at least 596 civilians have been killed since its inception. Russian invasion of Ukraine on February 24, including 43 children. Another 1,067 civilians, including 57 children, were injured as of midnight on Saturday, March 12.
the losses in areas of intense fighting such as Mariupol.