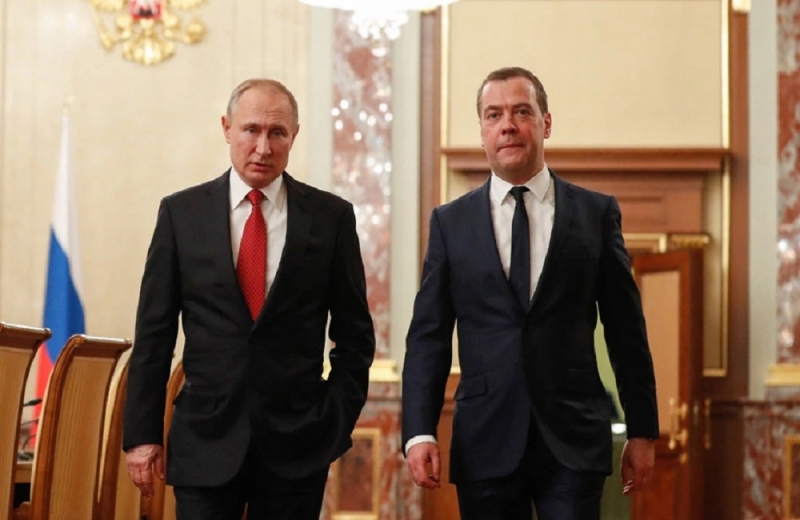 nuclear weapons "Against aggression using conventional weapons," said Dmitry Medvedev, a former Russian president and current vice-president of the country's Security Council. special document on nuclear deterrence. "This document clearly shows the reasons why the Russian Federation has the right to use nuclear weapons," said Medvedev, whose country has about 6,000 nuclear warheads – the world's largest stockpile of nuclear weapons.
< p> "There are some of them, let me remind you: The number one situation is when Russia is hit by a nuclear missile. The second case is any use of other nuclear weapons against Russia or its allies. The third is an attack on a critical infrastructure that will have paralyzed our nuclear deterrents. And the fourth case is "When it comes to aggression against Russia and its allies, which has jeopardized the very existence of the country itself, even without the use of nuclear weapons, that is, with the use of conventional weapons," he said. He added that there is a "determination to defend the independence, the sovereignty of our country, not to give any reason to doubt even the slightest that we are ready to give a worthy response to any violation of our country, of its independence ".
For his part, the Minister of Defense of Russia, Sergei Shoigu , appeared in public for the first time in two weeks, in a video chaired by him at a meeting on Russia's arms budget.
"We continue to deliver weapons and equipment in advance through credit. "The priorities are long-range, high-precision weapons, aircraft equipment and maintaining the readiness of the strategic nuclear forces," he said.
It took two weeks, but Russia has finally released a slightly more convincing proof-of-life video of Sergei Shoigu after the defense minister vanished without explanation pic.twitter.com/tt3db5PoyW

— max seddon (@maxseddon) March 26, 2022
Comments pushed the President of Ukraine, Volodymyr Zelensky , in a video link to the Doha Forum in Qatar, warns that Moscow is an immediate threat to the world. "Russia boasts that it can destroy with nuclear weapons, not just one country but the entire planet," said Japanese Prime Minister Fumio Kishida.said today that the prospect of Russia using nuclear weapons is "increasingly real" and welcomed the visit of the US ambassador to Hiroshima , the first city to be attacked with nuclear weapons. Japan, the only country to have been attacked with atomic weapons, has repeatedly spoken out against nuclear weapons.
Kishinda, who represents Hiroshima in parliament, visited the monument today and Museum of Peace in the city with US Ambassador to the country Ram Emanuel .
It is increasingly true that I believe that Ambassador Emanuel's visit to Hiroshima and his experience of seeing the nuclear reality will send a strong message to the international community. "I think our visit was substantial," Kisinda told NHK.
My first time in Hiroshima today, to follow Japanese Prime Minister Fumio Kishida & US Ambassador to Japan Rahm Emanuel pay tribute to victims of the Hiroshima bombings amid Russia's nuclear saber rattling. They laid wreaths at the victims memorial: pic.twitter.com/vwmcr6YhZy

— Michelle Ye Hee Lee (@myhlee) March 26, 2022
He said that the Russian invasion in Ukraine shows the difficulties of creating a world without nuclear weapons.
Putin has not directly threatened a nuclear attack. But he warned during the February 24 invasion that anyone blocking Russia would face "such repercussions that you will never see in your history."-a statement made by some leaders as a threat to use nuclear weapons.
Kremlin spokesman Dmitry Peshkov said on Tuesday that Russia would use nuclear weapons only in the event of "an existential threat for our country ".
The leaders of the Group of Seven warned Russia on Thursday not to use biological, chemical or nuclear weapons in the war in Ukraine.