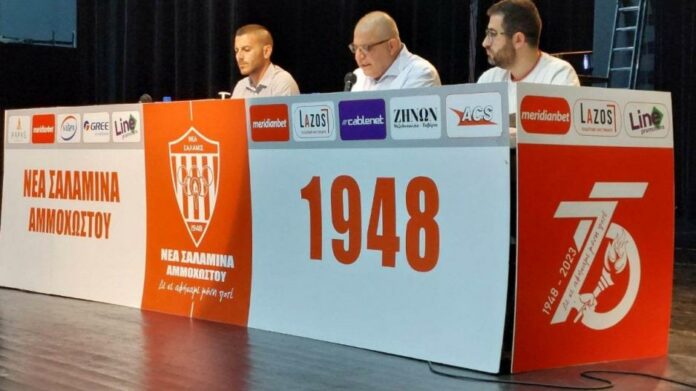 The new 12-member board of directors of Nea Salamina, chaired by George Konstantinou, was commissioned.
Details:
Presentation, discussion and approval of the budget for the 2023-2024 season
Proceedings of the Board of Directors 2022-2023
Through a constructive discussion, the issues of concern to the members were raised and recommendations and suggestions were submitted on how our Association will proceed in the immediate future. At the same time, the narrow and difficult economic conditions were explained and the help of all the members and friends of the Association was requested so that it could continue to survive and fulfill its obligations.
The budget was approved within the framework of the General Assembly. for the 2023-2024 competition season where it is the beginning of planning for the new competition season and the resolution of the pending issues.
Within the framework of our democratic procedures, the election of the new Board of Directors took place , which convened immediately after the General Assembly and was formed into a body. More specifically:
President:George Konstantinou
Deputy President & Head of Financial Office: Andreas Lazos Vice President Administration: Konstantinos Panagiotou Vice President & Head of Football Department:Dimitris Lazos
Secretary:Andreas T. Avraam
Treasurer:Giorgos Dimitriou
Head Press Office & Contact:Giorgos Kazamias
Head of Commercial Department:Sokratis Panagi
Head of Academies Department:Ilias Skordis
Head of Second Team: Christos Christodoulou
< strong>Facilities Manager:Petros Andreou
Football Department Manager:Patroklos Ioannou
The new Board of Directors immediately starts planning for the new season period in order to achieve the goals set in the context of the General Assembly. At the same time, he wishes to thank the outgoing members of the Board of Directors, Giannos Chrysostomou, Christoforos Larkou and Kyriakos Kokkini, for their contribution and services to our Association and wishes them every personal and family happiness.
Thank you all the members of the Association who attended today's Assembly and we express our optimism that this effort will also be embraced by all members and friends for the successful outcome of yet another very difficult competition season