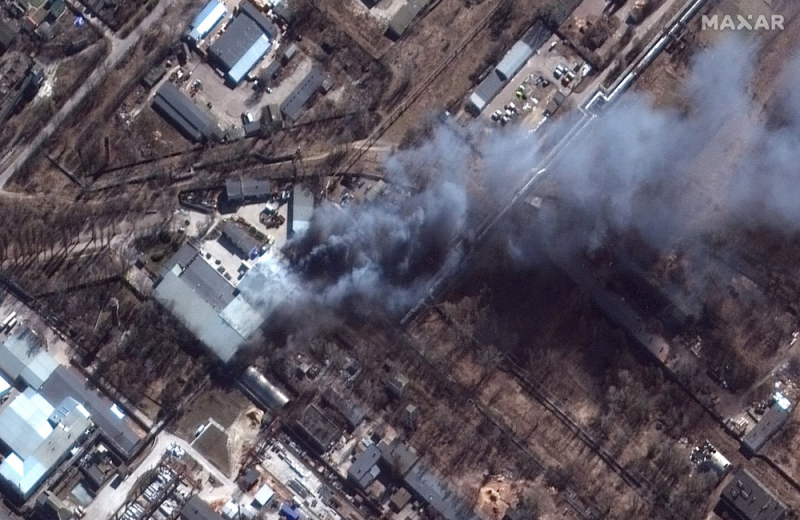 According to the photos and the information that accompanies them, the giant Russian convoy of 6 kilometers, which in the last few days was a breath away from Kyiv, has "broken" into smaller pieces, it has grown either in forests or in areas near the airport. Antonov and generally appears to be on alert.
NEW: The Russian military has put seeming multiple rocket launchers in firing positions less than 30 mi from Ukraine's capital of Kyiv.

Resupply trucks likely from Russia's dispersed 40-mi long convoy that stalled last week, are also seen in Berestyanka.

📷:@Maxar pic.twitter.com/cwg2uFb0VC

— Jack Detsch (@JackDetsch) March 11, 2022
NEW: Russia has increased bombardments near Ukraine's capital of Kyiv, per US officials and satellite photo.

Fighting at Antonov Airport, just over an hour drive from Kyiv city center, has set a fuel storage area ablaze. US officials assess 🇷🇺 has advanced on Kyiv.

📷:@Maxar pic.twitter.com/CNNj7mfK0q

— Jack Detsch (@JackDetsch) March 11, 2022
Of concern is the fact that some of the photos appear to have military vehicles that look like rocket launchers and have been placed in an open field.
NEW: The stalled Russian convoy outside Kyiv has dispersed to surrounding areas.

"Units are seen maneuvering in and through the surrounding towns close to the airport, elements of the convoy further north have repositioned and are deployed in forests."

📷: @Maxar pic.twitter.com/qdQZF5NkaL

— Alex Salvi (@alexsalvinews) March 11, 2022
The satellite images were taken at 11:37 a.m. Kiev time on Thursday. Just north of the Antonov air base in Gostomel, Ukraine, are Russian military vehicles parked on the streets in residential areas 17 kilometers northwest of Kiev.
https://twitter.com/TheIntel121 ref_src = twsrc% 5Etfw
Kyiv is surrounded
Correspondents of the French News Agency (AFP) saw columns smoke rises from the village of Skibin, a few hundred meters from the last dam of Ukrainian forces before the northeastern entrance to Kiev.
Ukrainian troops told AFP they fought hard overnight to retain control of the last section of the highway before the capital, its main northeastern entrance.
"Military operations are underway in "Skibin," a soldier named Sergii told AFP, who said that a phalanx of Russian tanks had been partially destroyed.
Yesterday at noon, a rain of Russian Grad rockets fell in the desert village of Velika Dimerka, about five kilometers from the borders of Kiev, some of which landed about twenty meters from the team of the French Agency.
The rockets hit many houses in the village, which have been approached by Russian troops in recent days and where Ukrainian forces have only a minimal presence.
After the invasion of Ukraine began on February 24, Russian forces advanced on several fronts around Kyiv, causing Ukrainians to fear that sooner or later they would encircle their capital.
From the first days they managed to reach to the northeastern outskirts of the capital, mainly near the cities of Irpin and Butsa, which have been under intense bombardment for more than a week and from which residents have fled en masse.
Northeast of Kiev, Russian tanks have been sent in less than a week at least 80 km to reach the last days in the villages next to Kyiv such as Velika Dimerka.
Around the urban complex of Kiev, which had before the war almost 3 , 5 million inhabitants, the Ukrainian authorities now have only roads leading south to evacuate civilians and supply the city.
According to the mayor of Ukraine Vitali Klitschko, half of the population of the Kiev urban complex has left since the Russian invasion began.