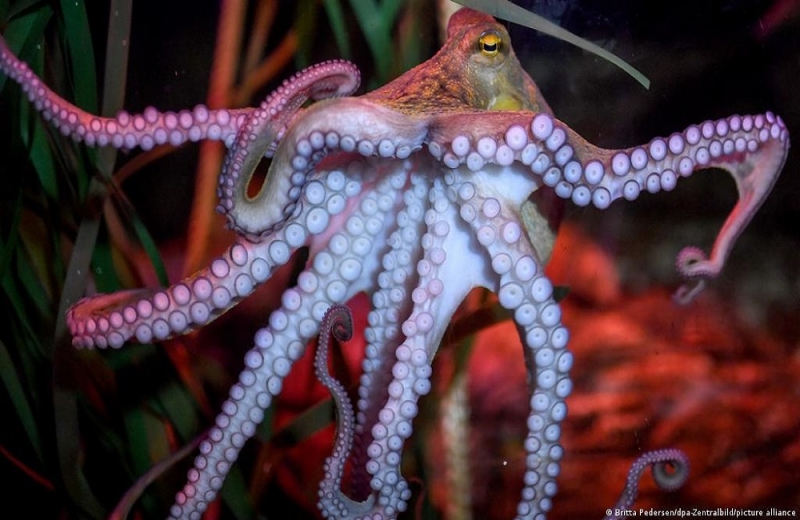 Many – and not fanatical activists – call on us to stop eating them. The reason was the famous Greek-American director Alexander Payne, who in a recent interview with Kathimerini, after saying how proud he is of his origin and his new citizenship, said:
& # 8220; But I do not understand something for the Greeks. How can and do octopuses eat? " That said. He added: & # 8220; They taste fantastic, but they are some of nature's most charismatic creatures, with intelligence and grace. So, I do not care where you go for food, as long as the menu does not have octopus ". An article followed, also in Kathimerini, by Theodoris Georgakopoulos. Editorial Director of diANEOsis , who wrote that he too has stopped eating octopuses and explained why: & # 8220; Because octopuses, as he wrote, are completely paradoxical creatures. It is as if they evolved from another, independent evolutionary process from the rest of the sea creatures. Although they are related to the other cephalopods – which are the idiots of the family – they do not look like any other species. We know they have been here on Earth for hundreds of millions of years – maybe 500 million years – but no one knows exactly how many, as they are invertebrates and there are no fossils. We also know that they are evolutionarily near-perfect: they remain unchanged and have survived all the recent mass extinctions of various life forms on our planet. When a meteorite fell on the Yucatan Peninsula 66 million years ago, dinosaurs and 75% of the species that lived on Earth became extinct. The octopuses were there. And they stayed there. And it's still here.
They are incredible, bizarre creatures, with characteristics unique to nature. Their blood is blue, they have three hearts and each of their tentacles has a separate brain. They have the largest minds of all invertebrates (and most vertebrates). Their skin has the ability to see. They can change their own RNA on their own. And most importantly: they are very smart. Unjustifiably, incomprehensibly clever. They have different, distinct personalities. They use tools. They have memory (of two kinds). They recognize – and distinguish – human faces. If you close them in a jar, they find a way to unscrew the lid from the inside to escape. There are testimonies of octopuses jumping on fishmongers and entering the barn to eat crabs. "
And he went on to write that with these data, he stopped eating octopuses: & # 8220; I'm not vegan, I do not eat very healthy and as a rule I do not hesitate to try strange or exotic flavors. But somewhere I also set a limit. And my limit, as it turns out, is that I can not eat beings that I respect and admire. "
And he is not alone. And many others, completely different people from each other, from actress and controversial businessman Gwyneth Paltrow to the techno-philosopher Jaron Lanier – two people, by the way, who most likely have absolutely no other common features. The issue of octopuses has gained new publicity in recent years. That Netflix documentary (which dozens of readers send me every time I write anything about octopuses) won an Oscar. Many books have been written on the subject, such as Sai Montgomery & # 8220; The Soul of an Octopus. Even the World Economic Forum in Dvo has written about how bad it is to eat them.
And Thodoris Georgakopoulos concludes: & # 8220; Nevertheless, many people – who may have seen the documentary, read articles or books -, this summer in the tavern can order an octopus. Why; How do we decide these things? Why is the idea of ​​eating a dog so disgusting, when we eat pigs, which are just as smart animals, without any problems and without a second thought? How can we not want to eat horses, dolphins or elephants, but we have no problem eating octopuses, which are smarter and more impressive creatures than all of them? It's a mystery.
I'm not an activist and I'm not able to tell you what to do about it. Your lives are full of critical decisions about serious things, and I can not – nor do I want to – influence any of them. However, in this matter, which is relatively insignificant and small, I would like to urge you to take a closer look at the octopuses. The other day I posted a small online poll on my Instagram followers, asking them if, after all that, they eat octopuses. Of the approximately 2,000 readers who answered, 41% answered & # 8220; yes, and they will continue to eat. " But the rest, the majority, answered other things. 31% that & # 8220; yes, but they will stop ". And 29% of my readers said & # 8220; no ". They do not eat octopuses. "
What will you do
thetoc.gr