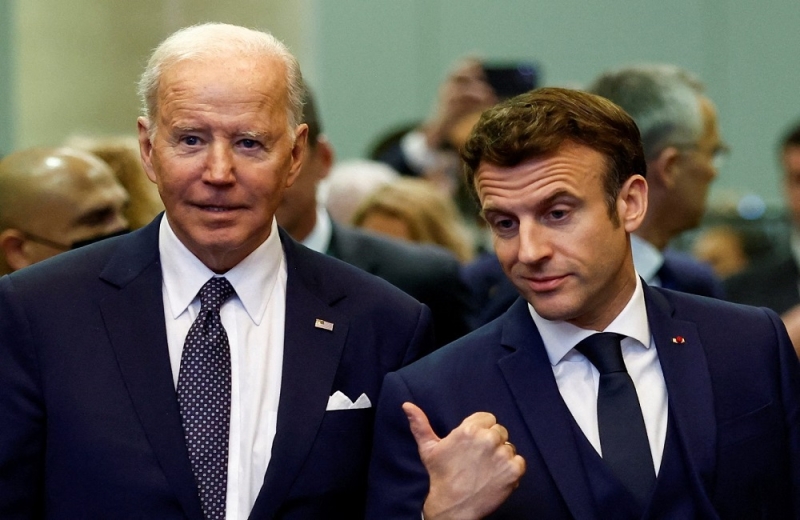 Although the West rallied more quickly than most expected when the war broke out in Ukraine , as the situation turns into a protracted conflict, which could last for months or even years, trying to will of western states, european and american officials wonder if the rising economic costs will eventually erode all this solidarity.
At least, this is what the New York Times estimates in their recent analysis, pointing out, however, that the cracks so far remain superficial. Examples include the Hungarian refusal to impose a European embargo on Russian oil, Paris's nervousness about the Biden's government's aggressive goal of weakening Russian President Vladimir Putin militarily, and Baitin's blaming food and fuel.
Beyond these tensions, the American newspaper stands by the further signs of intensifying "solidarity". Such, according to her analysis, are the approach of Sweden and Finland with NATO and the security guarantees that Britain offered to the two countries in the face of the Russian threat. In Washington, a $ 40 billion bailout package for Ukraine was approved by 368 votes to 57.
Impact on the West
But the war in Ukraine is already 76 days old. As the fighting continues, its impact on supply chains, energy pipelines and agricultural crops will become increasingly felt, both at gas stations and in supermarkets.
Putin, some experts say, estimates that the West will be exhausted before Russia by a protracted conflict in the disputed Donbass region, especially if the price of Western support for Ukraine comes in the form of rising inflation, energy insecurity, and overwork. Joe Biden's director of intelligence, Avril Heines, voiced those doubts on Tuesday, warning senators that Putin was preparing for a long-term siege and "possibly US and EU, as food shortages, inflation and energy shortages worsen. "
Biden on the farm
On Wednesday, Biden traveled to a farm in Kankaki, Illinois, where he argued that Putin's war was responsible for food shortages and the rising cost of living for American households, a sign that his overwhelming support for Ukraine – a policy which enjoys cross-party support in Washington – may have political costs.
Putin is also facing his own domestic pressures, which the Times says were made clear by the balanced tone he chose during his speech in Red Square on Monday, in which he did not call for a mass mobilization or threaten to escalate it. conflict. At the same time, however, he made it clear that the end of Russia's campaign, which he said was aimed at eliminating "torturers, death squads and the Nazis," was not coming to an end. strong>
In Ukraine itself, fighting has begun to show signs of a protracted conflict. A day after Ukrainian forces recaptured a number of towns northeast of Kharkiv, the regional governor said Ukrainian efforts had pushed Moscow forces "even further" away from the city, further reducing "their chances of hitting its center". of the region ".
Ukraine's success in ousting Russian troops from Kharkiv, its second largest city, about 30 kilometers from the border with Russia, appears to have helped reduce bombings in the region in recent days, although Russia in parts of the front in the Donbass region of eastern Ukraine.
Even the fact that Ukraine has endured three months after the full-scale Russian invasion is surprising. Analysts say a protracted war could deplete the resources of the Russian military, which has already suffered heavy losses in men and equipment. With this in mind, some argue that the West should take advantage of it by tightening the noose around Moscow.
Exhaustion of the West?
"I'm worried about the exhaustion of the West," Michael McFaul, a former US ambassador to Russia, told the Times. p>
The US and the EU, he argued, should impose a wide range of overwhelming sanctions at the moment, rather than announcing them in escalating waves, as they have done so far. According to McFaul, Western nations were close to adopting this strategy in the field of military aid, which allowed the Ukrainians to resist Russia.
The example of Hungary
However, delays in the European embargo negotiations show the limits of this approach when it comes to energy supplies from Russia. EU envoys held another fruitless meeting on Wednesday, failing to curb strong opposition from a single member state: Hungary.
The country's prime minister, Viktor Orban, who maintains warm relations with Putin and tensions with Brussels, was the cause of the hopes of unity after he blocked the last measure, claiming that an embargo on Russian oil would be equivalent to an "atomic bomb". for the Hungarian economy.
Orban continued to resist, even as he made concessions for a longer deadline for weaning Hungary from Russian oil, despite persistent pressure from other leaders. Commission President Ursula von der Leyen went to Budapest to try to persuade him, and French President Emmanuel Macron called him on the phone.
"We will only support this proposal if Brussels proposes a solution to the problem they have created," said Hungarian Foreign Minister Peter Sigiarto, adding that modernizing Hungary's energy sector would require "many, many billions". Biden's difficulties
In Washington, D.C., Biden had fewer difficulties in gaining support for sending military and humanitarian aid to Ukraine. But rising food prices, fueled by the war, pose a significant threat to Biden. Food prices rose 0.9% in April from March, according to data released Wednesday. Finance Minister Janet Glenn said the government was "extremely concerned about global food supplies", adding that 275 million people worldwide were at risk of starvation.
"Putin's war has cut off critical food sources," Biden told farmers in Illinois. "Farmers are helping us on both fronts, reducing food prices in the country and increasing production to feed the planet that needs it."
It remains to be seen whether the US can increase production enough to reduce shortages. But the visit to the farm came at a time when Biden, under pressure from the fastest-growing inflation in 40 years, was trying to reassure Americans that the White House was serious about accuracy.
Putin's Big Gun
Although Putin may face far greater pressures – from significant human losses to the financial burden of sanctions – he exploits nationalist sentiments, which some analysts say puts him in a stronger position.
On Wednesday, it appeared that the Kremlin might annex the strategically important southern part of the Kherson, with the occupying forces announcing that they would make a formal request to Putin to take over their territory in Russia.
"They are driven by strong nationalism," said Francis Fukuyama, a political scientist at Stanford University, "for whose sake they are willing to suffer a huge economic disaster." However, he added that a strong reaction from the West could be "a moment to regain the confidence of the democracies". French disputesFor some Europeans, the US may overdo it. French diplomats with ties to Macron have essentially said that the US strategy is to arm Ukraine like a lobster and to maintain sanctions against Russia indefinitely. France has said it wants to push for talks with Putin because there is no other way to ensure European security in the long run. Other analysts say the threat to Western unity is less than whatever they show. Finland and Sweden's moves to join NATO show, according to the Times, that the alliance is not only shrinking, but is also experiencing a shift in its center of gravity to the east.
Scandinavian allies
Even before the invasion of Ukraine, Putin warned those countries that they would face "retaliation" if they joined NATO. During a visit to Stockholm, British Prime Minister Boris Johnson said Britain 's declaration of mutual defense with Sweden could be the counterweight to the threat.
"Sovereign states should be free to make such decisions without fear of being influenced or threatened with retaliation," Johnson said. The declaration "will allow us to share more classified information, strengthen our military exercises and expand our cooperation in technology development," he added.
Germany's role < Despite Germany 's ambiguous stance on the gas issue, it seems extremely unlikely that it will move away from the landmark commitment to increase its military spending. On Wednesday, Germany began training Ukrainian hoplites to use howitzer self-propelled guns in western Germany. "The German military intends to donate seven of these heavy weapons to Ukraine." Eliot Cohen, a political scientist who served in the US State Department during the presidency of George W. Bush. "If the Ukrainians continue to succeed, I believe the people will applaud them."
Sources: in.gr, New York Times