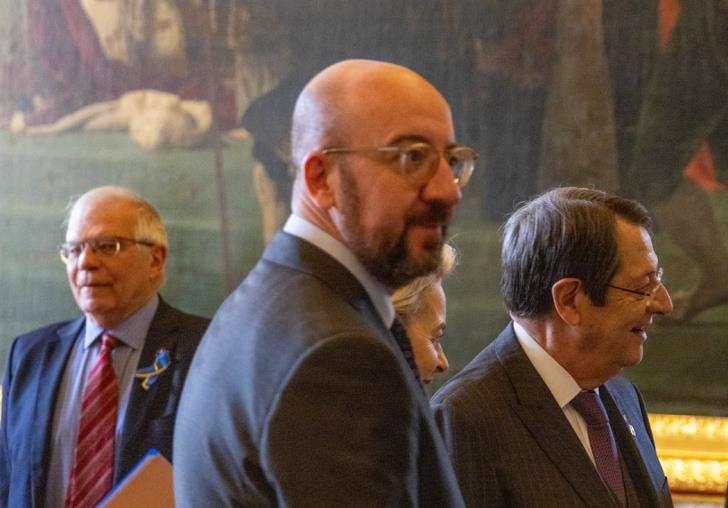 & nbsp & nbspΑνδρέας Πιμπίσιης & nbsp; & nbsp;
The Russian invasion of Ukraine creates, in addition to the events on the ground, other parallel battles at the diplomatic level that may not be of direct concern to the two countries. Such as, for example, the diplomatic battle in which Cyprus and Turkey have engaged in the hope that they will gain some benefit. The two countries have opened another chapter of diplomatic confrontation within the EU due to the developments in Ukraine. & Nbsp;
Turkey is trying to reap multiple benefits, political-military-economic, from the war in Ukraine, presenting itself as a bridge to resolve the crisis. Cyprus, having the same bitter experience from the real behavior of Turkey, is ringing the bell to European partners reminding them that "what shines is not gold". & Nbsp;
Ioannis Kasoulidis has started a diplomatic marathon in order to highlight the Turkish games with a Ukrainian background and on the other hand to prevent any instrumentalization of the crisis to upgrade the occupation regime and create new ones on the island. He tries to achieve this through two directions. On the one hand, with the letter he sent to Josep Borrell, where, among other things, he points out the fact that Turkey, as a NATO member state but also as a candidate country, is playing a strange game. While on the one hand it tries to take advantage of this capacity to ask for various rewards or to play the role of mediator, at the same time it avoids fully complying with decisions taken by both NATO and the EU. Kasoulides's letter to Borrell, but underlines in all contacts with foreign diplomats, is that Turkey, as a candidate country, must comply with European Union decisions to the same extent as the existing EU Member States. The Cypriot government insists Turkey should close its airspace to Russian aircraft. & nbsp; b>
This strange double role played by Turkey was also highlighted by President Anastasiadis during his meetings and speeches at the Extraordinary European Council. According to a written statement by the government spokesman, Marios Pelekanos, in his speech during the plenary session on Thursday, President Anastasiadis noted that the Republic of Cyprus, "as an occupied country for almost 48 years that is still experiencing the consequences of the Turkish "fully understands what is happening now in Ukraine and expressed Cyprus' firm support for diplomatic efforts to end the war."
N. Anastasiadis also referred to the role that Cyprus can play for energy transfer to Europe "among other things, through synergies with countries in our wider region for energy transfer to Europe". In his speech, he particularly emphasized the role of natural gas as a transitional energy source and the need to diversify energy sources and supply routes "through the implementation of cross-border interconnections".
As examples, President Anastasiadis mentioned the "electricity interconnection of the Eastern Mediterranean region with Europe as planned through the Euroafrica and Euroasia Interconnectors, as well as the significant prospects for the transfer of green energy, inter alia, with hydrogen as a raw material from the wider Middle East region to Europe ".
President Anastasiadis "reportedly" stigmatized "before his counterparts" the unacceptable attitude of Turkey not to align with the sanctions imposed on Russia due to its invasion of Ukraine, since in addition to serving its own interests, it also significantly affects effectiveness of the measures, which are ultimately aimed at exerting pressure in order to end the raging war. "
Referring to the strengthening of the EU's defense capabilities "in order to be able to act as a reliable security provider, where necessary, in the wider EU neighborhood, which includes the Eastern Mediterranean region", President Anastasiadis stressed that in the relevant "The threats and challenges that the European Union and the Member States are facing from Turkey should also be taken into account." Erdogan & # 39;/p>
While President Anastasiadi was pointing out to his partners the strange role that Turkey is trying to play, Recep Tayyip Erdogan spoke by telephone with Joe Biden, trying to get from the United States what he until recently asked for no response./p>
The Presidents of Turkey and the United States discussed the Russian invasion of Ukraine and bilateral issues. It is possible that Recep Tayyip Erdogan was more interested in bilateral issues than in the Russian invasion of Ukraine. As reported by Ankara, Erdogan told his US counterpart that Turkey's role in trying to continue the dialogue between Moscow and Kiev is important in order to prevent the escalation of the crisis. He stressed that the tripartite meeting Lavrov-Kuleba-Tsavousoglu in Antalya, a few hours earlier, was a diplomatic success.
Biden welcomed Turkey's efforts to support a diplomatic solution to the crisis. During the teleconference, which lasted about an hour, the two leaders expressed concern about the ongoing Russian invasion of Ukraine and reaffirmed their support for Kyiv, according to a White House statement.
According to a statement issued by Erdogan's office, the Turkish President stressed to his American counterpart that the time has come to lift all "unfair" sanctions against the Turkish defense industry. He added that Turkey wants to buy 40 new F-16 fighter jets and modernize its existing ones as soon as possible.
Ankara originally planned to acquire more than 100 F-35 fighter jets manufactured by Lockheed Martin, but the US excluded Turkey from the program in 2019 after acquiring Russian S-400 anti-missile systems. Turkey called the decision unfair and demanded $ 1.4 billion in compensation.
A few months ago, it became known that Ankara had submitted a request to Washington for the purchase of 40 F-16 aircraft and equipment to modernize its fighter fleet. The acquisition of the Russian S-400s also brought US sanctions on Turkey. In December 2020, Washington blacklisted Turkey's Defense Industry Directorate, headed by Ismail Demir and three other officials.
Washington has repeatedly warned Turkey not to buy other Russian weapons systems. For its part, Ankara has said it intends to buy a second batch of S-400s from Russia, which could exacerbate a diplomatic rift with the United States.
The Turkish request for the purchase of fighter jets is estimated to be difficult to approve by the US Congress, which does not have the best feelings for Turkey in recent years. Democrat and Republican lawmakers urged Biden in October not to sell F-16 fighter jets to Turkey, expressing confidence that Congress would block the deal.
Positive sign in Ankara & nbsp; b>
Ankara's strategy does not go unnoticed by Brussels, with the European Commission giving a positive signal to Turkish actions. Asked by KYPE, Foreign Affairs Committee spokesman Peter Stano said the European Commission had noted Ankara's efforts to mediate between Russia and Ukraine, as well as its condemnation of the Russian invasion by Turkey, while encouraging the country as well as all partners to work together in the context of the EU response.
The question to Peter Stano was whether Turkey fully complies with EU decisions. "These are important steps that we welcome," he said. "We have noted the efforts made by Turkey to maintain relations and mediate between the two sides, as we saw in Antalya," he continued. "We continue to work with Turkey and all our partners, explaining the EU's response to Russia 's aggression and encouraging co – operation in this context," he said.
Asked to comment on whether the letter was received of Foreign Minister Ioannis Kasoulides to High Representative Josep Borrell regarding Turkey's compliance with EU sanctions against Russia, including the closure of the airspace, Mr. Stano noted that "we do not comment on public relations between the partners. "If the High Representative receives a letter, he always responds appropriately, but we do not provide comments on diplomatic correspondence," he added.