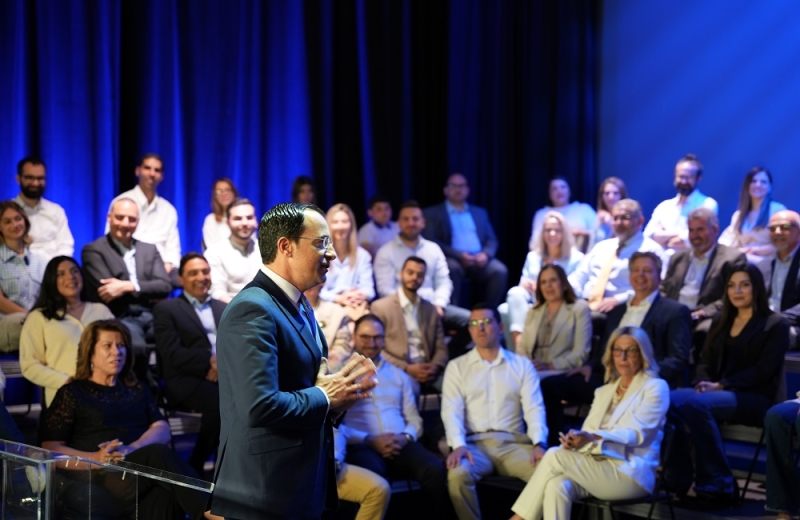 " If one of my students made a copy ", says the former rector of the University of Cyprus and a candidate for the presidency of the Republic, Mr. Costas Christofidis, "he would definitely miss the semester".
Referring to the plagiarism of the speech of Ioannis Kasoulidis, by the also candidate for the presidency Mr. Nikos Christodoulidis, Mr. Christofides reports to "Politis": "I have been a reviewer in various scientific journals. If we found someone copying, we would deprive them of the right to publish their article. "
Mr. Christofidis, who is expected to officially announce his candidacy for the 2023 Presidential Elections on May 29 at the New Wave Congress, becomes even clearer: "The best thing that Mr. Christodoulidis has to do is to leave from the election race. If he can not write his own vision for Cyprus and copy it from others, then what credibility does he have left? »
How did Mr. Christodoulidis react?
What is Christodoulidis's answer regarding the issue of plagiarism? His staff officially tried to downplay plagiarism as "touches" borrowed from Kasoulidis's speech. On the "We support Nikos Christodoulidis" website on Facebook, some of the administrators spoke of mudslinging against him and responded by attacking DISY, accusing him of trying to fake the announcement of his candidacy. On the same website, Mr. Nikos Christodoulidis is presented as a hardworking bee and as a person with a diamond character and strict moral principles:
, demonstrates the impunity and shamelessness of the other side.
We, & # 8216; gentlemen & # 8217 ;, support a man with a diamond character, whole in morality and perfectly structured as a personality, with purposefulness and strict moral principles. Really, what do you represent?
The abhorrent way in which you choose to ignore the dozens of assets that make Nikos Christodoulidis a model politician, demonstrates the negligible quality you have as & # 8216; people & # 8217 ;. You act as flies that like to feed on dirt, while around them thousands of flowers bloom and beautify the creature ".
Court
It is clear that the ordinary followers of Mr. Christodoulidis, who declare that they are pissed off by the parties and the corruption of the Anastasiadis government, either do not want to or are not able to understand the dimensions of Mr. Christodoulidis' slip. Of course, there are many who react and even think of taking some action. Is there a case or possibility for Mr. Christodoulidis to be brought before a court on charges of plagiarism, but also for fraud, since he spoke in the words of someone else presenting them as his own vision? Some citizens contacted "Politis" expressing their readiness to go to court. According to reputable lawyers we have contacted, this is from difficult to impossible. As we were told by a former judge of the Supreme Court, "the only one who could perhaps raise such an issue is the copyright holder and author of the intercepted speech, namely Mr. Ioannis Kasoulidis." So far Mr. Kasoulidis does not show any willingness to make any move.
Offsets
Cases like this are not resolved in the courts, says to "Politis" the professor at the University of Cyprus Mr. Haridimos Tsoukas. "In mature countries, such behaviors lead to sanctions and lead to resignations. This is what Joe Biden did in 1987, realizing that copying the speech of British politician Neil Kinnock was a big blow. Mr. Christodoulidis did not say anything in the course of his speech. Read a written speech and writing is a conscious act. "
Some supporters of Mr. Christodoulidis rushed to downplay the issue through various arguments. That public opinion should deal with more serious issues. That Cyprus is full of thieves, but some people are busy with a small copy of a speech.
"These arguments are morally unsuccessful," said Professor Tsoukas. "With such arguments, everything could be justified. Anyone who argues for compensation, does so out of selfishness. "
Marketing
What Mr Tsoukas is particularly concerned about is the now spectacular entry of marketing into politics. When someone announces his candidacy, he should and should try to be himself. "Mr. Christodoulidis, on the other hand, entered into a business relationship with his communicator and became a talking head. "We are facing a phenomenon," he says, "where we see the full penetration of marketing in shaping the image of some policies. I tremble at the thought that politicians are made in the offices of some communicators. "
Ethics
From the moment that the relevant videos are available, which were compared and the plagiarism was found in 47 points of Kasoulidis' speech, what should have been done? Mr. Christodoulidis chose the policy of the scapegoat by firing his communication specialist Mr. George Flessas. It did not even make sense for him to apologize, much less resign. As Professor Tsoukas puts it, "If someone commits an atrocity, their next action is of paramount importance. Indicates whether he has realized the problem or not. In short, the subsequent act reflects on his character, with thinking citizens wondering: Where can it stop? »
Recycling
The rector of TEPAK , Panagiotis Zafeiris, commenting on the issue of plagiarism, tells "Politis" that "university institutions do not allow plagiarism, which is punished." Of course, although he is an academic, he seems to be more concerned about the political dimensions of this phenomenon: "I am particularly concerned that the ideas of 2008 appear as a repetition in 2022, as if nothing has changed in this country. This recycling shows the stagnation in which the political life in Cyprus has reached. I'm really worried. "