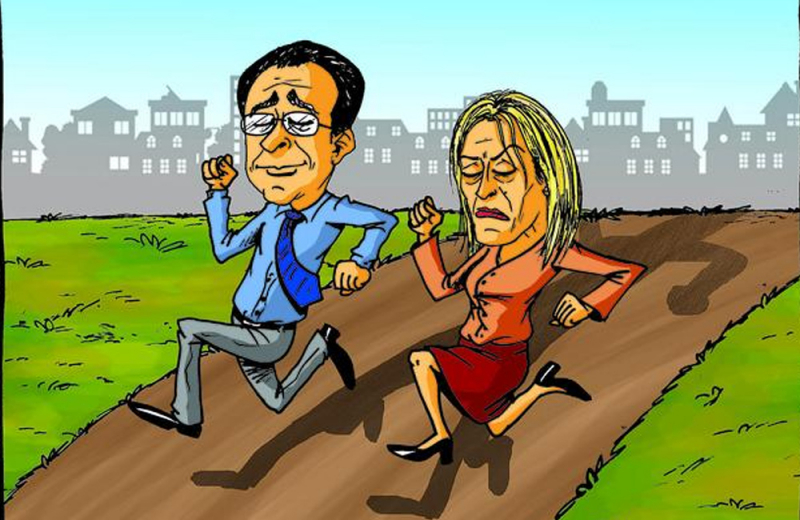 The question is not theoretical. What do Nikos Christodoulidis and Irini Charalambidou have in common? One could answer none. Mrs. Charalambidou belongs to AKEL, Nikos Christodoulidis to DISY, so their differences are huge.
On the other hand, if one follows their political careers closely, one may find many commonalities.
* Both are ambitious and want to play a leading role in politics.
* Both emerged as executives of their parties, coming from other places.
* Both seem ready to confront the parties, which gave them housing and mainly political status.
Entering the party
* Mrs. Irini Charalambidou started any of her political activities as Dikoikia. Her father was a DIKO executive and deputy mayor of Engomi. She, in her first steps as a journalist, worked in the Struggle, later in the Party Newspaper of DIKO, Eleftherotypia, and also in the Preacher of Tassos Papadopoulos. Later, on the side of Tassos, he sided with his NO campaign in the Referendums. Mrs. Charalambidou became known through television. As a public official, he was hired by RIK and became famous through the show Pleasant Saturday Night. This was followed by various other shows of a similar kind on Logos and Antenas, to end up on RIK with the show "To Syzitame". The content of this show helped her, as she showed that she has many other abilities. From a flowerpot of Pleasant Saturday and Antenisimo, she proved that she has a political criterion and that she could attract serious viewers to her audience. It was then that AKEL proposed to her (in 2011) to get involved in politics and to run for parliament with the New Forces. On the other hand, Mrs. Irini Charlambidou never hid her political positions, that is, she did not embrace the Marxism-Leninism of AKEL. She has not yet hidden that she was a fan of APOEL, since she also went to the matches of her team.
* Mr. Nikos Christodoulidis took his first political steps in New York as a student. He mainly served as a member of the court of various consuls general sent by DIKO to New York at that time, in order to control the expatriates, within the framework of a simplistic political approach, at the level of a course of competitive patriotism. His substantial politicization was achieved when he met his wife, Filippa Carcera, who is also the politician in charge of the family, according to a number of executives who worked with them in the Presidential Palace. Ms. Karsera in Athens was one of the leaders of the nationalist student group Drasis. Opponents of Ms. Filippa, during her studies, were the then students-members of the Avant-Garde Konstantinos Petridis (current Minister of Finance) and Anastasia Anthousi (current Deputy Minister of Welfare), whom her colleagues called submissive and Clergy. Mr. Nikos Christodoulidis then served as spokesman for the EU Presidency of Cyprus, under Andreas Mavrogiannis, who was appointed Deputy Minister in the Christofias government. He apprenticed in the diplomatic posts of Ambassador Tassos Tzionis and was favored by Averof Neophytou in 2013, when the president of DISY wanted to appoint him a spokesman for the party. He even arranged a royal salary for him from a well-known businessman. He also received two salaries in advance, which he did not return, according to the businessman, when he decided to go as a civil servant – government representative to the President. His wife was later transferred to the Presidential Palace, to the Diplomatic Office of President Anastasiadis.
What other audience?
Based on the above, another finding can be made about Mrs. Irini Charalambidou and Mr. Nikos Christodoulidis. In other words, they still have something in common:
Both were favored by the parties that welcomed them. They tolerated them with their diversity, did not take into account their ideological origins and gave them the right to feel members of their parties. Ms. Charalambidou entered Parliament, with AKEL in the last two parliamentary elections highlighting her first in crosses of preference. With Mr. Christodoulidis becoming a minister and being part of the Politburo and the Supreme Council of DISY.
They want to be imposed
What is the relationship between these two executives in relation to the 2023 presidential elections? Let us find one more element in their behavior: They have the same ambition to impose their point of view on their parties, because they consider themselves to be popular, as opposed to their parties which are falling apart.
* Mr. Christodoulidis decided, after 9 years in the Anastasiadis government, after the dynamic interventions of Averof Neophytou and Ioannis Kasoulidis in 2018 to take over the Ministry of Foreign Affairs, that the time has come to claim the presidency. Not, of course, through the party that made him a politician, but as an independent candidate. When asked to move through the party's procedures, he resigned and is now organizing his staff. Claiming the DISY voters, who he believes will follow him. Gathering next to him some who failed to get elected, were not appointed to positions they wanted or seek a role in the political life of the country, seeing in the face of Mr. Christodoulidis a way out. Driving, one might say, his party is even in a split because he thinks he is quite popular and that he can do it.
* Ms. Irini Charalambidou with her continuous interventions tries to impose or exclude candidates that her party is discussing in view of presidential elections. For example, she stated her opposition to putting Mr. Pamporidis' name on the table, because he was a minister in the Anastasiadis government. In her own circle, in fact, she states that in case of Pamporidis's descent, she will run as a candidate to save the honor of the Left. On the other hand, while she now appears as a member of the Left, she had no problem when her party started consultations with the president of DIKO Mr. Nikola Papadopoulos, who at least in relation to the Cyprus issue has differences with AKEL, such as day and night. Some in AKEL rightly say that Ms. Charalambidou, with her attitude, does not promote any ideological differences that do not exist, but does what she does because she would like, based on her popularity, to force the party to use her as a candidate for the 2023 presidential election.
Briefly
In conclusion, as various AKEL and DISY executives comment, Mr. Christodoulidis and Ms. Charalambidou have much in common. Their political behavior is governed by an unbearable political ingratitude towards the parties that promoted them. Which do not hesitate to push, not to mention blackmail, even pointing out the possibility of breaking them, so that their own can pass. This phenomenon, of course, does not only concern Cyprus but is a sign of the political times we are going through. The inability of the parties to deliver a solid and constructive speech, the lack of political practice in solving the daily problems of the citizens, allow the citizens, even in mature democracies, to seek and rely on the authority of a leader. With good and handy examples. In France, we had the election of Emanuel Macron. In the US, we had the Trump idiot. In Cyprus, due to the lack of political culture and the lack of strong competitive institutions, we are probably heading for the election of a new Trump.