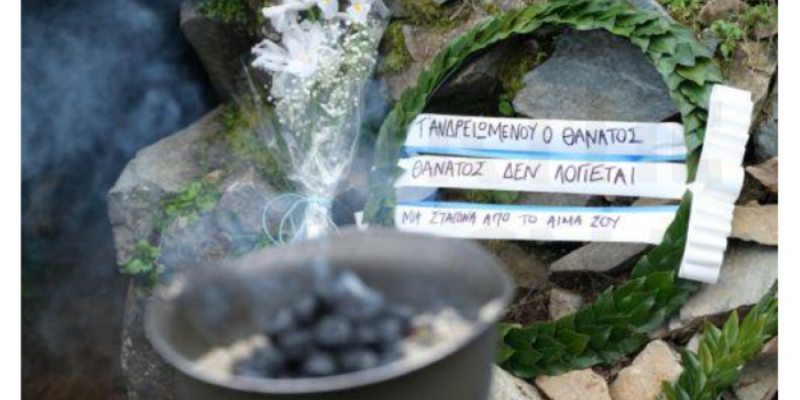 In Machira, the altar of reference to the grave of Grigoris Auxentiou is lit day and night, the former Minister of Justice, EOKA activist Nikos Kosiis said today, adding that there we must give a reason for our unpaid debt and that we owe its repayment.
In his speech at the funeral of the sister of EOKA Deputy Leader Grigoris Auxentiou, Chrystallous Auxentiou Souroullas, held at the church of Saints Raphael and Vassiliou in Kalo Chorio, Larnaca, Nikos Kosiis referred to events in the life of Stavraetou Machiras and of his sister.
He said, among other things, that "the exit from the worldly is a common path for everyone, without exception, and today, despite the sadness, is not a day, it is not a cause for mourning, it is an occasion to sing praises for Grigoris and the family that grew up. The great achievement for Grigoris, who sealed it with his life and heroic martyrdom, is his acceptance and recognition by the whole of our people," he said.
He added that "this achievement of universal recognition of Grigoris in the many years that have passed, you deservedly preserved it, dear Chrystallou. You are leaving calm and quiet, your memory will always be good because you did after your father and mother, what belonged to you as a debt", he said, and noted that now your daughters and sons are taking over.
< p> He also noted that "in Machira an altar is lit day and night, it is the altar of our petition, where the rest of us have to give a reason for our unpaid debt. "We owe debt repayment," he emphasized.
A memorial speech was delivered by the Mayor of Lysis, Andreas Kaouris, who referred to the life of the deceased and noted that "the loss, the death of the closest relative and the closest person of Stavraetis to the honor and dignity of his beloved sister Chrystallous, inevitably it leads us to his memory and his sacrifice, his messages and his strict instructions for the bloody and divided homeland.
He added that "Grigoris did not fight and did not sacrifice himself so that today we can say goodbye to his sister in exile, far from the land of her birth, the heroic Lysi." "Grigoris did not fight and there was no holocaust so that we could not walk freely where he himself acted, where he himself trotted freely and flew like an eagle, he acted and glorified," he said.
Grigoris, he continued, "fought and sacrificed, he became one with fire and steel, he gave continuity and consistency to our Greek history so that we could live and breathe fresh air, without occupation, without foreign troops, without barbed wire and separation lines, without settlers. Grigoris, and all that wonderful generation of his, did not fight so that we could not go freely to the house where he was born and to walk in the streets where he sang young and carefree creating the first innocent dreams of his life.
He also said that "the best memorial service for Grigoris, his parents and his sister Chrystallos, who we say goodbye to today in the refugee camp, is to be able to go back free to a free solution, to a free, reunited and prosperous homeland, with the restoration of all of the human rights of our people and when we will be able to look again at Pentadaktylos, without being ashamed of him and raise his sun above and beyond the mountain tops.
As Mr. Kaouris said, "The Municipality of Lysis with its poor forces will always be close to the newly founded 'Grigoris Auxentiou'" Study Center. Mr. Kaouris expressed the certainty that "the state and the church will come to the rescue and strengthen it with more forces, so that we can keep the story of the legend of Machiras alive.
Laying a wreath, the Archbishop of Cyprus George mentioned, among other things, that "Chrystallou's exodus procession is a second funeral for Grigoris Auxentiou as well. The whole nation bows before the heroism of Auxentios but also honors the ethos of Chrystallous, he said, and noted that "we are all called to receive this ethos, so that we can imitate the ethos and heroism of Auxentios, because the place he is waiting for us to continue his work.
The funeral was also attended by, among others, the Minister of Defense, Michalis Giorgallas, the Speaker of the Parliament and President of DISY Annita Dimitriou, MPs, EOKA activists, friends and relatives of the deceased.
Read also: Grief over the death of Auxentiou's sister, Chrystallous – Crowd at the funeral
Source: KYPE