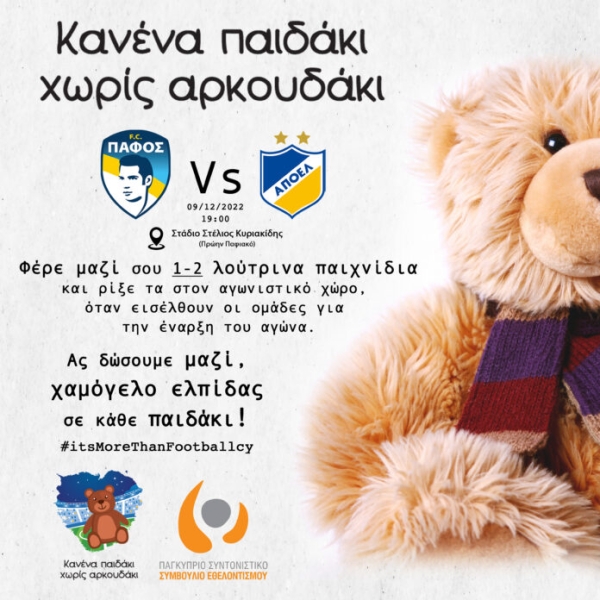 Every year, when Christmas approaches, in the European stadiums abroad,
a campaign is organized, which aims to activate and encourage the
sports fans, watching their favorite match, to bring a
teddy bear with them .
Each teddy bear is destined to end up in the hands of children who they have it
more need, thus increasing their smile.
The idea is, during a football match, the fans who will
be in the stands of the stadium, at a predetermined point in time (the< br /> the one that the two teams will enter, for the start of the match), to
throw the teddy bears on the playing field, creating a team and beautiful
atmosphere!
Afterwards, the teddy bears will be gathered and will go on their way, to be distributed
to non-profit organizations M.K.O., needy families and small children, giving
an extra smile of hope.
Last season 2021 – 2022, the initiative was taken like this
campaign to start operating in Cyprus as well
It was a spontaneous thought, and due to the pandemic, there were some problems ,
in terms of safety issues, required permits and so on, but with the great will
of our team, the campaign managed to take place in the postponed match
APOEL Vs Omonia, on December 26, 2021.
The response of the people was very great!
The teddy bears, for the reasons mentioned above, were collected at the entrances of the
stadium, instead of being thrown onto the stadium.
Despite the difficulties, our satisfaction seeing the smiles from small and adults
bringing their own or new teddy bears, they were huge!
The little children happily gave their favorite teddy bear, knowing that it will be
in the arms of another child and give him smiles.
About 3000 teddy bears were collected. The necessary disinfection, sorting and
were then handed over to their new owners.
The Chief of Police declares a warm supporter.
On her part the Cyprus Football Federation is also ready to support
the campaign.
*The disinfection of the teddy bears and their first sorting will take place at the Volunteer's house in Kokkinotrimithia. A concession given to us by the honorable
Citizen's Commissioner, Mr. Panagiotis Sedonas.
*This year, the action will take place at Stelios Kyriakidis Stadium (formerly Pafiakos) between the teams Paphos F.C. Vs APOEL, on December 09, 2022 at 19:00.
*Our allies in this effort from this year will be the Pan-Cypriot Coordinating
Volunteer Council – PSSE.