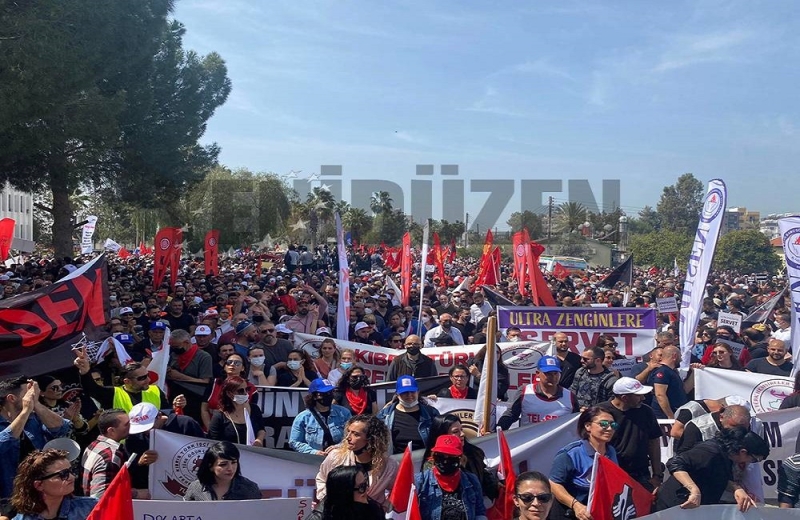 The main topic on the front pages of the Turkish Cypriot press yesterday was yesterday's mass protest against the accuracy and increases carried out by more than 20 unions in occupied Nicosia, addressed to the "prime minister" where the various marches. T/C media write that a total of 15,000 people participated in the whole event in the most majestic and pulsating protest.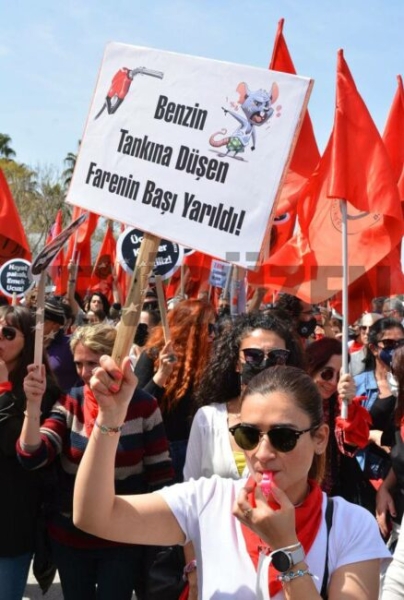 "Halkin Sesi" is entitled "Thousands said" enough is enough "", "Vatan" is the title of its main theme "The country caught fire!", "Yeni Duzen" is entitled "Uprising in the streets", "Cyprus" has title "Listen to this voice!" and "Avroupa", "Who started this uprising?".
Many photos of the crowd of protesters, slogans and women holding pots and lids are published in the press. The protest was generally titled & # 8220; No to Social Disappearance and Poverty & # 8221 ;.
The "fire of the uprising", apart from Nicosia, was lit yesterday in Famagusta and Morphou, where official protests took place.
After the end of the protest rally in front of the "prime minister" yesterday, the Community Democracy Party started a sit-in protest until late at night. The new president of the party, Mine Atli, executives and members of the KKD sat on the street in front of the "prime minister's office" and at night they lit a barrel and stayed there until late.
"The country has become a place of fire, thousands of people took to the streets, but there is a serious feeling of helplessness. "It is not possible to do politics in an area where people feel so inefficient," said Mine Atli, adding that for years the Turkish Cypriots have been cut off from production, dependent on external financial assistance (SS: means Turkey). Who will pay this price, he wondered.
In addition, mobile phone companies, in a joint statement last night, assured that there was no interruption of their services, at the time of the demonstration.
Both trade unionists and Turkish Cypriot media reported yesterday that there were problems mainly via the internet from the rally site, in front of the "Prime Minister's Office".
Telsim and Turkcell, which are the GSM companies in the occupied territories, said in a joint statement that communication is a human right and neither yesterday nor again did they put obstacles in its way. They note the concentration of thousands of people in the same place and the inadequacy of the 3G network. pounds (37 cents).
New protocol with Turkey
"Prime Minister" Faiz Sutsuoglu described the peaceful demonstration as "peaceful and fair" guilds, noting that it was against accuracy. He announced that in a week they will sign the new protocol on economic cooperation with Turkey and that the power outages will end from today.
With the signing of the new protocol, he said, they will be able to continue from an economic point of view. that remained. "Every descent has an ascent, we will take that ascent soon and restore the level of prosperity our people deserve," he said.
Source: KYPE