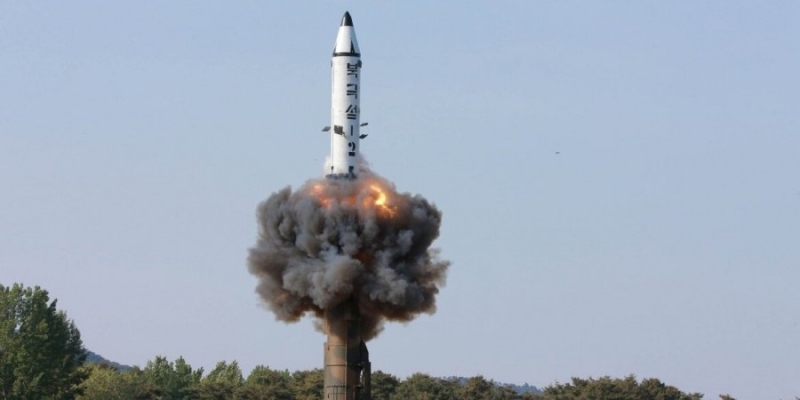 North Korea launched a ballistic missile today, triggering a temporary alert on the Japanese island of Hokkaido, before the Japanese government clarified that it did not hit its territory.
p>
The missile "did not fall on Japanese soil," Japanese Prime Minister Fumio Kishida said. Japanese Defense Minister Yasukazu Hamada, for his part, said that the "possible" intercontinental ballistic missile (ICBM) probably did not land inside Japan's exclusive economic zone (EEZ).
Generally, North Korea launches the missiles it tests with an angle to take an elliptical trajectory and not pass over other countries . But North Korean missiles have passed over Japanese territory repeatedly.
Earlier, the South Korean General Staff reported that North Korea had "launched a missile of an unknown type towards the East Sea", as it is called on the Korean peninsula and what Tokyo calls the Sea of ​​Japan.
The launch caused an urgent message to be sent to residents of the island of Hokkaido, in the northern part of the Japanese archipelago, who were told to seek shelter either inside buildings or underground. However, the coast guard and local authorities later reported that there was no danger.
The launch is recorded while two G7 ministerial meetings are scheduled to take place in Japan in the coming days: of the environment ministers in Hokkaido (Saturday and Sunday); and of the foreign ministers in Karuizawa (Sunday and Monday).
The Japanese government emphasized that the warning sent to the residents of Hokkaido was appropriate and not a "mistake", through the mouth of government spokesman Hirokazu Matsuno. The J-Alert warning system aims to "inform citizens about the danger" and the government "prioritizes security" of the Japanese, Mr. Matsuno insisted.
In Washington, the White House issued a statement in which it "strongly condemned" the "long-range ballistic missile" test. "The door to diplomacy is not closed, but Pyongyang must immediately stop its destabilizing activities," said the spokeswoman for the National Security Council of the US presidency, Adrienne Watson.
" Radioactive tsunami»
Pyongyang has continued its intensive weapons tests in recent months, amid heightened tension with Seoul and Washington, which are stepping up military cooperation and holding large-scale joint drills in area. The two sides accuse each other in high tones for the escalation since last year.
On Monday, North Korean leader Kim Jong Un ordered that his country's deterrence capabilities be strengthened "increasingly faster" in a "more practical and aggressive" way to counter the rise of the "high schools of US imperialists". and the traitors, the South Korean puppets», in the context of preparations to launch a »aggressive war» against his country, according to North Korea's official KCNA news agency.
Since March 23, Pyongyang has announced that it has conducted three tests of a remote-controlled unmanned submarine capable of carrying a nuclear warhead and "causing a large-scale radioactive tsunami.''
Pyongyang also said it tested an intercontinental ballistic missile. missile (ICBM) on March 16.
Last year, North Korea declared that the status of a nuclear power it has achieved is "irreversible", burying any hopes of resuming negotiations on the denuclearization of the Korean peninsula.
And in March, the Kim Jong-un has ordered his military to intensify its drills ahead of a "real war". Washington and Seoul responded with joint military drills, involving US strategic bombers and "invisible" for radar fighters.
Pyongyang characterizes these high school rehearsals as an invasion of its territory and described them on Tuesday as "hysterical'', preparation for "total war''. against it.
For its part, South Korea called "irresponsible" North Korea, accusing it of disrupting communications between the two countries' armed forces last week.
The militaries of the two countries communicate twice a day via a dedicated phone line, but North Korea has stopped answering since April 7, according to South Korea's Unification Ministry.
South Korea and the US have been warning since last year. that North Korea is preparing to conduct a new nuclear weapon test soon, the first since 2017.
The ballistic missile launched by North Korea "probably" powered by "solid fuel"
The ballistic missile launched today by North Korea "probably" propelled by "solid fuel,'' South Korea's military said, referring to technology whose development North Korean leader Kim Jong-un recently made a priority.
Pyongyang "appears to have launched a new type of ballistic missile'' , possibly powered by solid fuel", a representative of the South Korean general staff explained to AFP.
Also read: Russian Su-27 fighter intercepted a German aircraft over the Baltic
Source: APE -MPE-AFP-Reuters-dpa