< /p>
Hooded men attacked police officers, throwing firebombs and other objects, on the sidelines of a Londonderry march against the Good Friday peace agreement, police said.
The attack comes a day before US President Joe Biden's visit to Belfast.
A Reuters photojournalist saw four youths in the Creggan area throwing Molotov cocktails at a police vehicle, which was wrapped in flames on one side of it. No injuries were reported and police authorities appealed for calm.
"Our police officers were attacked in Creggan with firebombs and other objects while attending an unannounced advance parade" police said in a statement.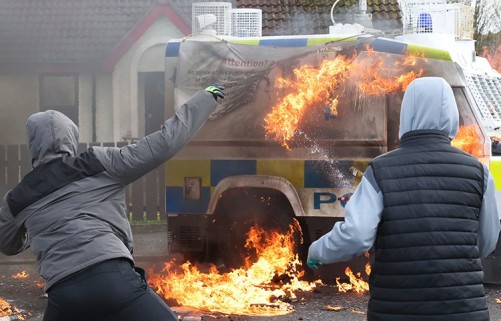 Today marks 25 years since the signing of the Good Friday Agreement, which ended three decades of bloody unrest in Northern Ireland between nationalists and unions. To this day, however, there are sporadic incidents by small groups opposing the peace agreement.
Read also: Pakistan: Four dead from a bomb explosion targeting a police car
Source: APE-MPE&nbsp ?