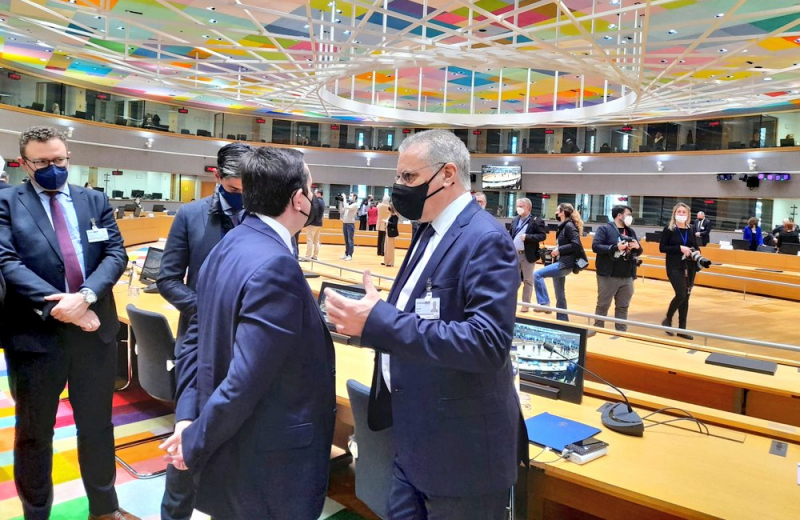 The position that the principle of compulsory relocation should be implemented by the countries that receive the largest migration burden from Ukrainian refugees was presented by Cyprus during the meeting of the Extraordinary Council of Justice and Home Affairs in Brussels on Sunday afternoon, said the Minister of Interior Nikos Nouris after the meeting.
As Mr. Nouris said, the Council took an overall stance on the decisions on various sanctions against Russia, fully supporting them and condemning the Russian invasion of Ukraine.
"In addition to what has been pre-decided in recent days, the Council of Interior Ministers today decided to activate a specific directive to provide temporary protection to Ukrainians who would like to move out of Ukraine, while of course our support was fully expressed in neighboring countries. with Ukraine and receive the greatest burden today of Ukrainian refugees "he added.
Δήλωση του ΥΠΕΣ @NourisNicos μετά την ολοκλήρωση της σημερινής έκτακτης συνόδου #Υπουργών #Εσωτερικών της Ε.Ε. για την ανθρωπιστική κρίση στην #Ουκρανία pic.twitter.com/pCDcDjSnxe

— Υπουργείο Εσωτερικών (@MinInteriorCY) February 27, 2022
"Cyprus has requested and demanded the implementation of compulsory relocation from these countries if and when they request it so that there is real solidarity in the direction of the countries that currently accept this migratory burden" Mr. Nouris pointed out.
"Poland, which is currently receiving the most weight, needs exactly the greatest support and if we are asked, our position is that it should be compulsory relocation and not voluntary.