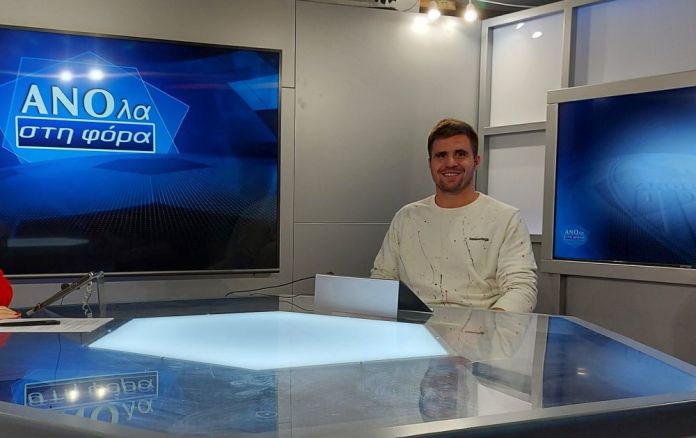 The newly acquired Anorthosis striker, Soma Novotni, was invited to the show "ANOla sti Fora" on Cablenet on Tuesday night (11/1), who, among other things, was invited to talk about his decision to come to Cyprus.
Read what the Hungarian striker said:
"It was two weeks ago, I was on vacation, they called me that Anorthosis is interested, I was very happy and I was very motivated because I know that it is a great team, with people, it wants to win titles. I was very happy that we agreed and I am motivated, I hope we get results, win titles and play Europe. It was very good that as soon as the news came out, the Anorthosis fans started welcoming me, sending me messages that they wanted me. It gave me a very pleasant feeling. "Every message was very good, they sent me videos from the cup and the celebrations, about the history of the team".
For Ketspaia: "Before I came I did not talk to him personally but I had in Bochum an old player of his (s.s. Lambropoulos) and he talked to me about him. I learned things and now that I came he welcomed me immediately ".
For coming to Cyprus again: "Yes, I came to Larnaca two years ago with my team, I scored four or five goals in preparation, I liked the stadium and the hotel and the city. I also came to Nicosia because Adam Lang is one of my best friends and when his child was born we celebrated together ".
If he saw an Anorthosis match: "Yes. First of all, I checked the fans, I saw the match with PAEEK live, we were already close to an agreement and I asked to see it. I supported the children, I wished we could win ".
About his characteristics: "Difficult, I do not like to talk about myself. I work hard, I like to be in the box and receive balls. Usually the ball finds me or I find it to score. I help in defense, I go back to fight when the team needs me ".
For the match against AEL, if he is ready and if he will score: "I never promise a goal because when I did I did not score, while when I avoided it I scored a lot! For a striker it is important to score, I hope the first one comes soon. "I like derbies and I want us to win them."
About the coronavirus and the fact that it affects the team: "I do not like to think about problems. I believe every player, every team has a hard time with these things, this is the situation. At the end of the championship no one will say 'yes but Anorthosis had eight cases in January'. What everyone will remember is what you did. "What I promise is that we who are healthy will fight for the victories in order to get victories and for the team to do well."
On whether he knew Anorthosis: "Yes, I was watching Adam Lang, that's how I know the Cypriot championship. I know that when the coronavirus came we had the same degrees as Omonia. Last year we won the cup. I know a lot about the team. When you say Anorthosi Famagusta in Europe, everyone remembers the Champions League ".
About the fact that he will soon play against his close friend: "The first time we played against opponents was very strange, we grew up together, in the same city. We played 2-3 times and I got used to it, these 90 minutes are opponents. If we have to kick each other we will definitely do it. There is no friendship in these 90 ′, I know he will kick me very hard! "
On his move from Napoli and his career in general: "I was 17 years old when I went to Naples, from a small town in Hungary I went to the same locker room as Cavani, Vargas, Hamsik. I started playing in the second team, we did very well, in the playoffs and in the cup final. Then I went to the third division of Italy, it was not the best experience, I returned to Hungary. We did very well with Wipest, cup, third in the league, the best year of the team in the last 20 years. It was a great time for me, I scored a lot of goals, then I went to Korea, to a great team with a history. We brought her back to the first division, it was also a very good season. The same thing happened in Germany, we promoted Bochum after 11 years, I played in the Bundesliga, it is the dream of many children ".
About how the stars of Napoli approached him: "You think that because he is a superstar they will not talk to you but it is not so. Hamsik and I were close, this Slovak, I was Hungarian, he helped me from the first moment. We are still friends, we talk. "I hope summer comes, I invited him to my wedding."
Which team from all over the world would he like to play for: "I would say Real Madrid. It is the team I have always supported as a child, it would be very nice."
Model player: "Brazilian Ronaldo was my favorite player when I was young and now I can say Zlatan Ibrahimovic, he is 40 and still scores goals."
For the No86 he chose, even if it symbolizes something: "When I was in Naples, Higuain had the 9 I wore until then and I could not tell him to give it to me, I had to choose a number, I got the 86 because it was the year they got married his parents and I stayed with him ".
About how he met his future wife: "She is famous in Hungary, she was a presenter on a TV show, I saw her once; I understand because I did not normally watch the show. As soon as I saw her I liked her, as well as her behavior, I wanted to meet her, I found the courage to send her a message, we met, since then everything is going well, I love her and I want to be with her for a lifetime ".
His message to the world of Anorthosis: "As I said, I do not like to promise goals and assists. But what I promise is that they will never see me get bored playing, not even with my head down. I will give everything for the jersey ".