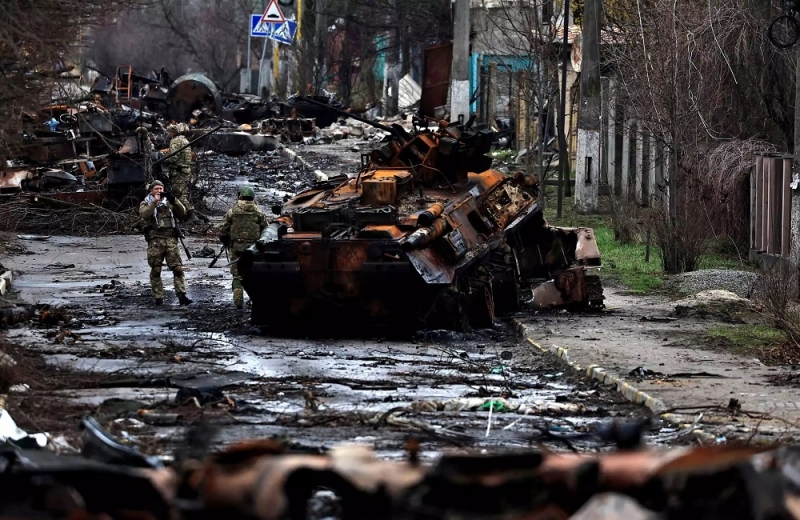 Human Rights Watch (HRW) announced today that it has documented more cases of & # 8220; apparently war crimes & # 8221; by Russian troops in two regions of Ukraine.
The human rights group says in a report that Russian forces controlling much of the Kiev and Chernihiv regions from late February to March carried out brief executions, torture and other serious abuses against civilians. class = "text-paragraph">The report refers to what HRW says are 22 summary executions, nine other illegal homicides, six possible enforced disappearances and seven cases of torture. Twenty civilians told HRW that they were being held illegally in inhumane and degrading conditions. HRW urges Kremlin spokesman Dmitry Peshkov and Russian Defense Ministry to respond to alleged abuses & # 8220; Russia has denied that it is targeting civilians or is involved in war crimes and accuses Ukraine of tarnishing of Russian forces.
Asked more generally about allegations of war crimes committed by Russian forces in Ukraine, Peshkov told Reuters: & # 8220; We consider it impossible and unacceptable to use such terms & # 8221 ;.
& # 8220; Many of the cases that Ukraine is talking about are obviously fake, and the most egregious are fabricated, as has been convincingly proven by our experts & # 8221 ;, he said.
HRW reports that it visited a total of 17 villages and small towns in the Kiev and Chernihiv regions and interviewed 65 people between April 10 and May 10, including former detainees, people who said they had survived torture, families of victims and others. witnesses. Reuters could not immediately verify the allegations made by HRW.
The report went further than a statement released in April, in which the Observatory for Human Rights said it had documented & # 8220; several cases of violations of the law of war by Russian military forces & # 8221; in areas controlled by Russia, such as Chernihiv, Kharkiv and Kyiv.
Russia calls its actions in Ukraine & # 8220; special military operation & # 8221; aimed at weakening its southern neighbor's military capabilities and arresting what it considers dangerous nationalists. war against a Russian soldier who took part in the Russian invasion of February 24. The soldier, who is accused of killing a 62-year-old civilian, told the court he was guilty.
Ukraine says it has identified more than 10,000 possible war crimes in total.
>