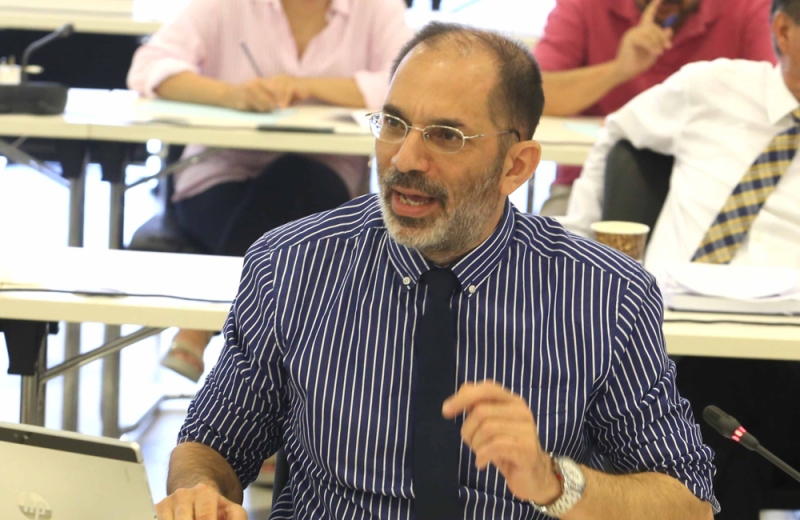 Odysseas Michailidis spoke to Politis 107.6 and 97.6 about the irregularities in the Municipality of Paralimni that he mentions in his report and that also concern the mayor Theodoros Pyrillis. "Twenty days before the registration of a plot in the name of the mayor, the municipal council in a meeting in a bus decided development projects in the area", said specifically Odysseas Michailidis.
Yesterday, presenting his findings for the Municipality of Paralimni to the Audit Committee of the Parliament, the general auditor Odysseas Michailidis focused on the purchase of the specific enclosed plot of land in the area of ​​Kappari, -a complaint made by a citizen to the Police- The mentioned plot was bought at a price that was not approved by the Land Registry, and was not accepted as it cost more.
receives money from municipalities. The company has inside information about projects that will be done in the future, possibly projects that will be done by the state. This may be a conflict of interest ", pointed out Mr. Michailidis.
At this point he noted that "either it should have become a coordinating body of Municipalities and Communities, or if they do it in their personal capacity, they should not receive money from the Municipality. The problem is that this company promotes investments which are no longer guaranteed to be promoted through transparent procedures ", Mr. Michailidis pointed out.
The Auditor General even asked, what has" the power of attorney that our gave the mayor to check his accounts in the Bank ".
Listen to the intervention of Odysseas Michailidis in the" Morning Inspection "broadcast by Politis 107.6 & amp; 97.6:
CITIZEN 107.6; MORNING INSPECTION 10 & # 8211; 06 & # 8211; 2022 ODYSSEAS MICHAILIDIS