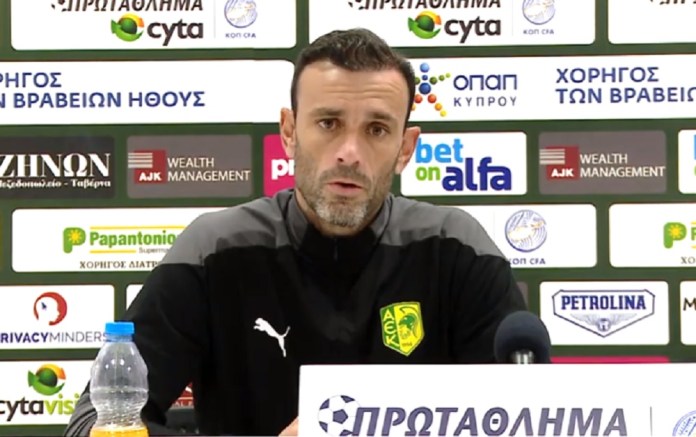 The AEK coach gave a press conference in view of the home match against AEL. David Katala referred to the importance of the match but also to the match data. We remind you that tomorrow's game will be held in the context of the 22nd and last game of the regular season.
Details:
For AEL: "We are looking forward to the game, we are more than ever ready to give our best to get the points. From day one our ambition is to chase the championship. My task is to prepare the team to beat AEL tomorrow. We all have the ambition to win first place. "
About the race: "We try to follow our own identity and plan. To find the solution and to be better in teams that defend, to be more aggressive. We want to be improved tomorrow with AEL ".
About whether he spoke with the president: "We have meetings with the president all year, not only now. The president wants to see the team at the top, we all want it, everyone is looking for the best for the team. We try to win all the games. Nothing changes, the goal is the same. It does not affect our position. "People can think the way they want." We stayed away from the goal lately. The ball does not enter even though we had clear opportunities. This is positive. We will return to goals and I hope this happens from tomorrow ".
For the goal of the championship: "Of course we can return to claiming the championship. Now the derby begins, we are a team that is claiming the title and we will fight it. In 2022 we are down, the other teams have increased performance. The season is difficult, the competition is great. Although the results were not the best, we are waiting for the playoffs and we will be there until the end. We want the victory to cover this feeling that we are not winning. The players want it, the team wants it. I do not know if AEL is focused on the cup match, I expect that they will come to claim the three points. And we have a cup next Wednesday. We focus on our team and how we get the points. "
For the world: " We are ready to fight for everything. The team is ready to get the points, to make a good match. The philosophy has not changed, I am one of the most ambitious people, the same exists in the team. Aim to be able to stand out. We are ready for everything. We hope Adam will be available soon. Everyone needs it. I understand the frustration of the people. We need them. They have to support the team. Players do everything for these colors. They want the support of the world ".
Like this:
Like Loading …