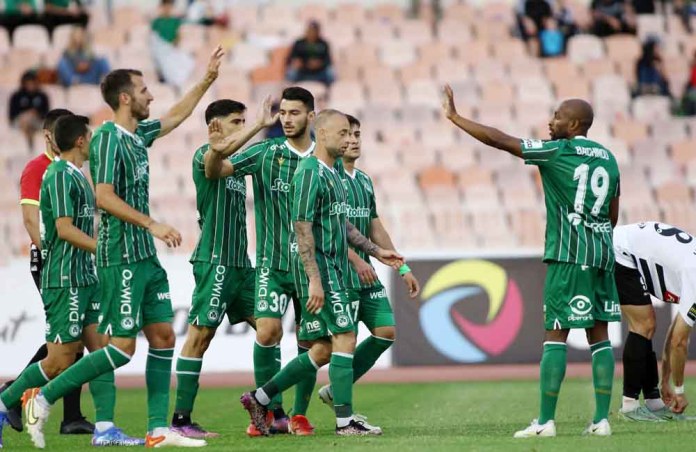 Omonia achieved a wide victory against PAEEK with 5-2, in the context of the penultimate match of the championship, and in view of its preparation for the cup final against the National on May 25.
A big protagonist for the greens is Loizou who scored three goals (40 ′, 49 ′, 61 ′), while ποepovi είχε had opened the scoring in 26 'and Papoulis (51') also found the net.
For the hosts, Varela had temporarily equalized to 1-1 with a penalty kick, after a suggestion by VAR for Kiko's hand, while in 88 'Orr scored the final 5-2 .
With this victory Omonia reached 49 points and will finally finish in seventh place, leader of the second group. On the other hand, PAEEK, which has been relegated for a long time, is at 16 points.
PAEEK : Panagiotou, Komodikis (46 ′ Enoch), Sumaoro (79 ′ Obanor), Amerogen, Kouros, Varela (73 ′ Or), Pattihis , Neophytou, Ramos (64 ′ Kaimolen), Charalambous, Babic (63 ′ Kapartis).
OMONOIA : Fabiano (46 ′ Ouzocho ), Psaltis, Sehou, Panagiotou, Kiko, Basirou, Diskerud, Lovera, Loizou (68 ′ Boteak), Papoulis (60 ′ Zachariou), ποepovic (73 ′ Kakoullis)
SCORE : 34 ′ pen. Varela, 88 'Or/26' Cepovic 26 ', 40', 49 ', 61' Loizou, 51 'Papoulis
YELLOWS: > 33 & # 8242; Κίκο
Referee: Αθανασίου Κυριάκος
Α & # 8217; Assistant Referee: Nikos Englezou
B & # 8217; Assistant Referee: Savva George
4th Referee: Costa Robertos
VAR: Antoniou Menelaos
AVAR: Lazarou Ioannis
Observer: Anastasiou Ioannis
Like this:
Like Loading …