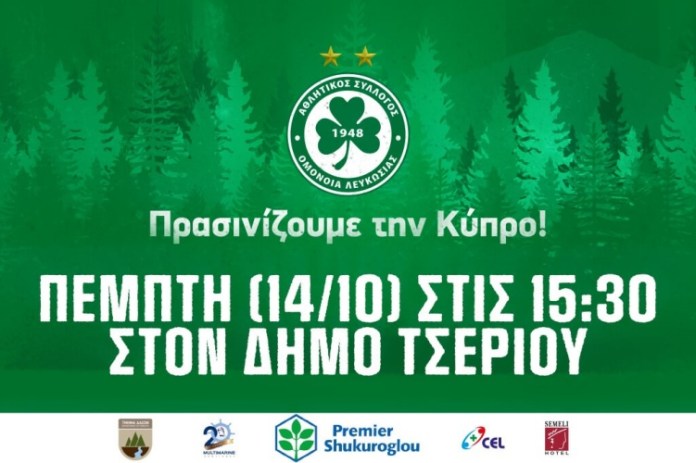 The second tree planting will take place in the Municipality of Tseri as part of our "Greening Cyprus" campaign!
The tree planting will take place on Thursday (14/10) at 15:30 in the presence of three football players of our team. It will be preceded by a pre-gathering in Tseriou Square (Tseriou Renaissance) at 14:45.
Those interested in assisting in this effort should contact: 22-104848.
Each goal 48 trees
According to the "We are greening Cyprus" campaign, for every goal we score we plant 48 trees. In September, our team scored 5 goals, which means that in the Municipality of Tseri we will plant 240 trees!
Since the start of the campaign we have achieved 12, a performance that is equivalent to 576 trees!
The page of the action "We are greening Cyprus": https://dentrofitefsi.omonoiafc.com.cy/
A big thank you to our sponsor and supporters
We warmly thank our great sponsor and the supporters of this effort!
A major sponsor is the group of companies, Premier Shukuroglou, which is active in the fields of plant protection, plant nutrition, animal health, public health and the provision of specialized 3rd party Logistics services.
Our supporters are the Semeli Hotel, the Multimarine that specializes in engineering and marine engineering based in Limassol and the pharmaceutical company CEL Hadjianastasis Pharmaceuticals Ltd! ".