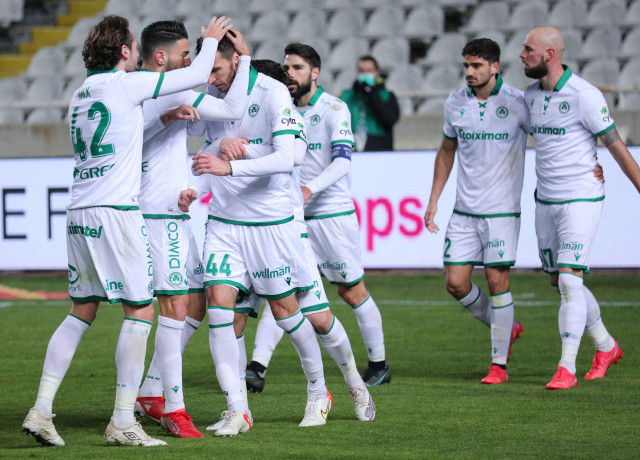 Omonia on Monday afternoon "built" on the victory of Thursday against POX for the institution of the cup. The team of the capital prevailed 2-1 over PAEEK for the 18th game and now calm and optimism has been added to the football department in view of the continuation for the fact that it reduced to -8 from the top.
The greens made "two" appearances as in the first part against the team of Kyrenia they seemed unable to break the very good defensive function of the guests. The "clover" found them dark, there were many wrong transfers that resulted in the irritation of the players and the murmur of the stands. Assade, who continues from where he left on Thursday, was very mobile and is trying to find his good self again after the injury he suffered and left him out for nine months.
In the second part, Omonia changed its face and presented itself with a more aggressive orientation as it knew that it would not take it for another loss. The defeat by Apollo had put her in a difficult position and today she managed to raise her head, without catching high levels of performance. Kakoullis, who wanted the goal from the beginning of the match, managed to score an excellent goal from a difficult and far position.
At the same time, the team of the capital reacted to the quick goal of the equalizer received by Nanto and with Cepovic locked the three-pointer. The Serbian striker received perhaps the biggest criticism from the world of greens and not only. He scored just his second goal in the league (and one in the cup), a sign of the deformity he is going through. However, even now, if Cepovic gets ahead, then it will be the best for his team. The Serbian striker is called to close his ears and build on the two goals he has scored in the last five days.
From there on, Omonia for another game had the headache of injuries and absent. Sehou and Zachariou do not catch the match with Anorthosis, Hubochan-Lagk are considered doubtful, while the case of Papouli-Atiemwen-Kiko who are ill is questionable. As for Ouzohos, it is expected in Cyprus within the week.
Like this:
Like Loading …