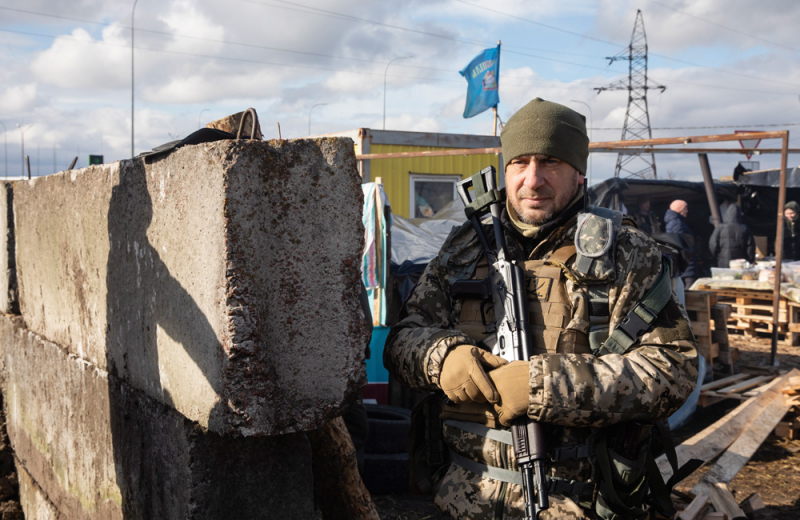 Russian tanks arrived today on the northeastern outskirts of the Ukrainian capital Kyiv, which they are threatening to encircle as they have already reached its northern and western suburbs.
An AFP team saw columns smoke rises from the village of Skibin, a few hundred meters from the last barrier of Ukrainian forces before the northeastern entrance to Kiev.
Ukrainian troops told AFP they fought hard overnight to retain control of the last section of the highway before the capital, its main northeastern entrance.
& # 8220; Military operations are underway in Scipin & # 8221 ;, told the French Agency a soldier named Sergii, who said that a phalanx of Russian tanks was partially destroyed.
Today at noon, a rain of Russian Grad rockets fell in the desert village of Velika Dimerka, about five kilometers from the borders of Kiev, some of which landed about twenty meters from the team of the French Agency.
The rockets Many houses in the village, which have been approached by Russian troops in recent days and where Ukrainian forces have only a small presence, have been hit.
& # 8220; The Russians entered the village this morning & # 8221 ;, said a 38-year-old resident, Vassil Popov. & # 8220; It's scary, but what do you want to do, we live here and there is no place we can go or take refuge & # 8221 ;.
After the invasion of Ukraine began on February 24, the Russian forces have advanced on several fronts around Kyiv, prompting Ukrainian fears that they will sooner or later encircle their capital.
From the first days they managed to reach the northeastern outskirts of the capital, mainly near the cities of Irpin and Butsa, which have been intensively bombarded for more than a week and from where the inhabitants left en masse.
Northeast of Kiev , Russian tanks were launched in less than a week at least 80 km to reach the last days in the villages near Kyiv such as Velika Dimerka.
Around the pre-war city of Kiev, which had a population of almost 3.5 million, Ukrainian authorities now have only roads leading south to evacuate civilians and supply the city. According to the mayor of the Ukrainian capital Vitali Klitschko, half of the population of the Kiev urban complex has left since the Russian invasion began.
& # 8220; According to our information, one in two residents of Kiev has left the city. "Today, just under two million people are here," he told Ukrainian television. However, Kyiv has been turned into a fortress, Klitschko said on the 15th day of Russian invasion: & # 8220; Every road, every building, every checkpoint, has been fortified & # 8221 ;.
Russia launched an attack on Ukrainian territory on February 24, which it describes as a special military operation & # 8221 ;, forcing more than 2.3 million people to flee their homes and become refugees, according to the latest UN report released today.