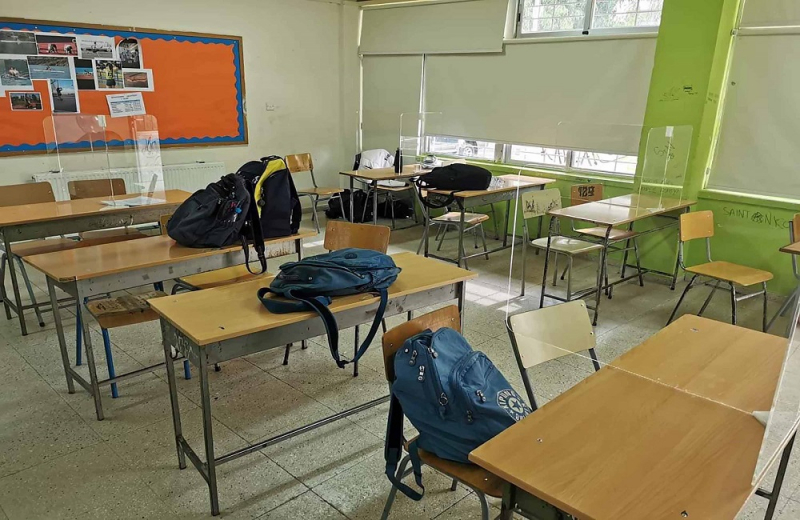 The Board of Directors of the Pancyprian Organization of Greek Teachers (POED) decided to work for an hour on Monday, February 7, as the first reaction measure for the government measures within the Primary Schools to stop the pandemic.
In a statement, POED states that this decision "will be re-evaluated by the Board of Directors of the Organization on February 3, which will review the decision according to the decisions of the government, on issues related to the pandemic and its management in schools. ».
POED asks the Ministry of Education, "as it proceeds even now to take effective measures in kindergartens and special schools, to adopt effective solutions to replace absent teachers as well as to announce a specific schedule for the installation of ventilation systems and air quality control in schools. rooms".
Regarding the new measure, the "test to stay", the WTO, according to its announcement, "continues to maintain strong concerns, reservations, concerns and objections for the implementation of this measure at the moment, with its implementation to concerns only the schools, without timely completed planning ".
It also "has strong doubts about whether this measure is safe to implement at this time, especially given the children and teachers belonging to vulnerable groups."
POED disagrees "with the way and the time when this may be implemented" considering that "it is certain that its implementation will further aggravate the extremely difficult situation that already exists in our schools, due to the understaffing observed by the absences of teachers ".
He asks, "as this should be taken seriously and therefore the additional burden of colleagues with other tasks should be avoided (eg supervision of a rapid test during the first two hours as we have been told)".
"Colleagues, due to their busy schedule in teaching tasks, substitutions, implementation of protocols, etc., have no more room to take on additional tasks," says the POED, which calls on the relevant Ministries "to finally listen to their concerns and concerns." to those decisions that will aim at the safety and health of children and students but also the proper operation of our school units ", it is added.
Otherwise, the POED, "having the authority of the Branch, will proceed to the announced work stoppage but also to additional measures which include mobilizations, informative meetings with school principals, press conference, protest within schools, etc." the announcement concludes.
ΚΥΠΕ