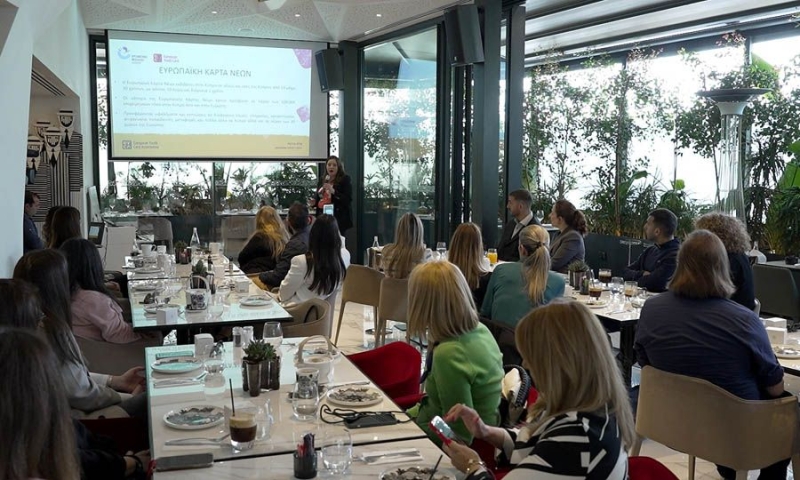 The beginning of a new era for the European Youth Card was marked by the presentation made by the Cyprus Youth Organization to the contracting companies and other partners on Wednesday, April 5. The business representatives were informed about the benefits they will get, through the promotion of their companies, the strengthening of their profile, as well as their upgrading in the consciousness of young people.
The card, which provides the European youth special privileges in areas such as culture, education, tourism, health, sports, beauty, entertainment, catering, telephony etc., is now digital for easier and more direct use by its owner. Six million young people in more than thirty European countries already enjoy the thousands of discounts and offers on products and services provided by clothing, accessories and other personal goods stores, restaurants, bars and cafes, travel companies and hotels, hairdressers and beauty salons, cinemas, theaters, museums, concert venues and many others, which make up the partner network of the card program.
Its main advantage is its European character, i.e. it is not only valid in Cyprus, but also in more than 30 European countries. You can, therefore, at any time take advantage of the special privileges it offers you, in any of these countries regardless of where you are and regardless of your country of origin and residence. In addition, at regular intervals, it gives you the opportunity to win various rich gifts, such as tablets, smartphones and laptops, through contests organized on Social Media.
This discount card, at Cyprus is published by the Cyprus Youth Organization, it costs just 10 euros a year and with it you benefit from discounts offered by more than 30,000 businesses, both in Cyprus and in Europe. It is worth noting that the subscription for students is completely free, with an additional benefit of 50% discount on Cypriot buses.
With one click on website of the European Youth Card you can learn more (https://europeanyouthcard.onek.org.cy/) and get your own digital card, easily and quickly.