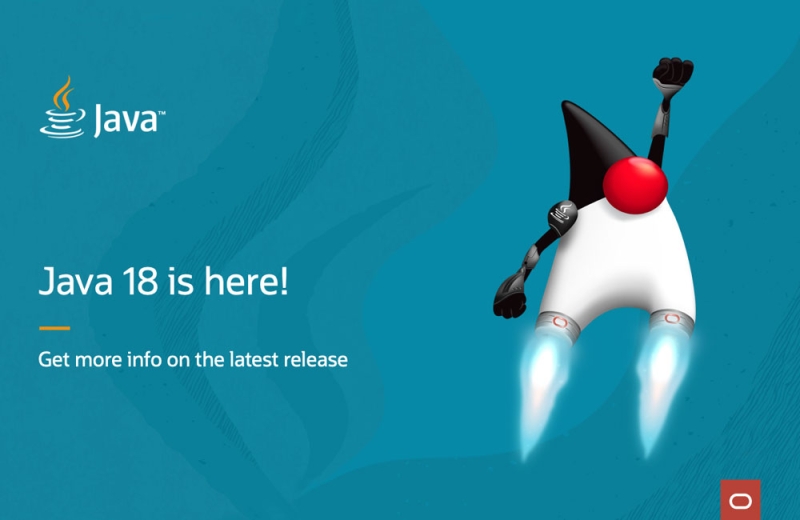 The new version brings thousands of improvements in performance, stability and security, as well as nine JDK Improvement Suggestions
Oracle has announced the launch of Java 18, the latest version of Java which is the number one programming language and development platform worldwide. Java 18 (Oracle JDK 18) brings thousands of performance, stability and security improvements, including nine platform enhancements that will further enhance developer productivity.
The latest Java Development Kit (JDK) provides updates and enhancements with nine JDK Enhancement Proposals (JEP). These include the ability to add Code Snippets in Java API Documentation (JEP 413), which simplifies adding source code samples to API documentation, and Simple Web Server (JEP 408) for prototyping and testing. Developers can explore two modules in development: the Vector API (JEP 417) and the Foreign Function and Memory API (JEP 419), as well as a preview module: Pattern Matching for Switch (JEP 420).
Georges Saab, Vice President Development, Java Platform Group, Oracle, said: "The availability of Java 18 demonstrates Oracle's ongoing commitment to providing companies and developers with faster access to improvements as part of their regular six-month feature release. We continue to make technical investments that improve the performance, stability and security of Java SE Platform implementations, as well as the Java Development Kit. "
Accelerate Java adoption in the Cloud >
Oracle recently introduced Java Management Service (JMS), a new service that runs natively on Oracle Cloud Infrastructure (OCI) and helps you manage Java runtime environments and applications either on your internal system or in any cloud. JMS provides the information you need to manage Java implementations anywhere in a large organization. Java Management Service is included for Java OCI workloads and Java SE subscribers.
Java 18 is the latest release within the Java Semi-Annual Schedule, and is the result of extensive collaboration between Oracle engineers and other members of the global Java developer community through the OpenJDK Project and the Java Community Process (JCP) program. This provides a steady stream of innovation and, at the same time, continuous improvement of performance, stability and security, increasing the penetration of Java into organizations and industries of all sizes.
A detailed list of library updates and enhancements can be found here: https://www.oracle.com/news/announcement/oracle-releases-java-18-2022-03-22/
Additional Websites
Download Oracle JDK 18
Java 18 Technical Blog
Sign up for JavaOne
Watch Oracle Developer Live: Java Innovations
Learn more about Java Management Service
Learn more about Oracle Java SE Subscription
About Oracle
Oracle provides integrated application suites and secure, standalone infrastructure in Oracle Cloud. For more information about Oracle (NYSE: ORCL), visit www.oracle.com. trademarks of Oracle Corporation. Other names may be trademarks of their respective owners.