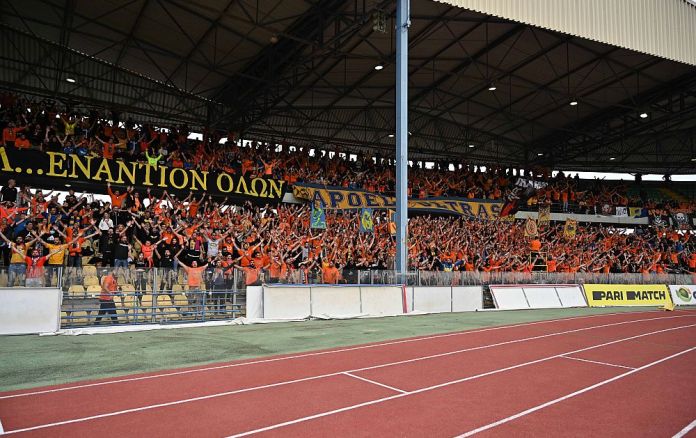 As the blue and yellows state in their relevant announcement, "after the availability for the needs of the team, sponsors, collaborators and PAN.SYF The remaining tickets are 251 and will be available through the APOEL FC Loyalty Scheme ".
Many fans of the team, therefore, criticize the decision of the administration to give a large number of tickets to the organized ones who have been absent in recent years, thus leaving few tickets for the fans who remained loyal to the team and supported it uninterruptedly.
In the last few hours, many reacted on social media, commenting on the announcement of the team, as well as in their fan groups and profiles, the decision of the administration.
Of course, there is the opposite view, with many stating that several tickets were correctly given to PAN.SYFI, substantiating their view with the argument that the presence of the organized will be particularly helpful in achieving the goal of victory, while In fact, some people think that all tickets should go to the "orange" ones.
However, the reactions of those who disagree with the decision are very strong, to the point that a fan states that for the first time he will not renew his season ticket.
Read some indicative comments & # 8230;
-After the spirits of the just finished. You know when they shout that. For me and those who know me it is over. If I do not get a ticket for Tsirio goodnight daisy. One of the first to have season tickets since they came out. Titles end at 53. Administration and responsible for this all useless.
Shame on you. You gave tickets to those who left the team, while to those who run it from behind and buy their season tickets in times when you had no income ONLY 260 tickets. Throw royalty in the trash (not to say anything more boring…)
-This is a thank you to those who practiced & # 8220; Only you's legend we never left you & # 8221 ;. These, of course, are expected from an administration that at every opportunity proves to us how incompetent it is. Before I misunderstand, let me say that it would make sense to allocate some 300 to the organized and the rest with priority. The 251 only, is called disrespect !!!
-With all due respect but from the 900 tickets to leave only 251 for them fans who have been supporting for so long a little embarrassment. You could do a better sharing I think (I got the sms, so you do not think it is a complaint).
-Explain someone your reasoning gentlemen of the administration. The people who constantly follow the team both inside and outside Cyprus, who buy season tickets, lotteries, etc. What is it?
-Where was our organized in the last 4 years we said? When it was not a stadium, who were next to the team and with a voice and financially supported our APOEL? Ατε ολαν παρατάτε μας & # 8230; idiots.