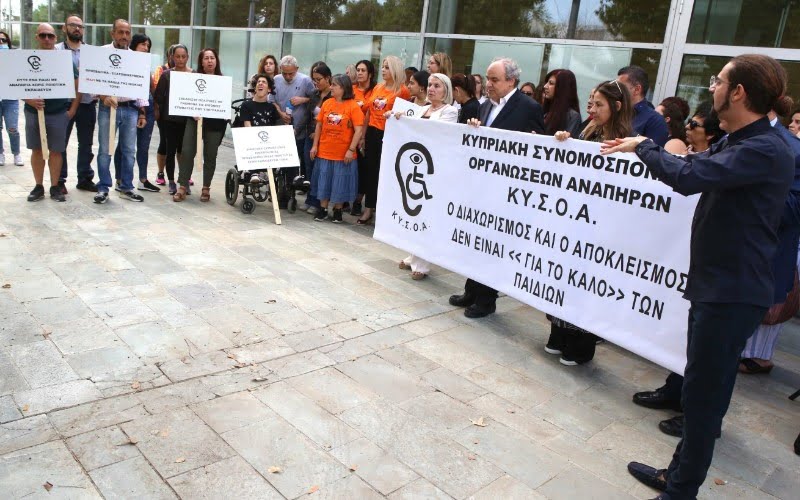 Outside the Presidential Palace on Friday, KYSOA – Will hold rights claim event
Download the CYPRUS TIMES APP! HERE for Android and HERE for iOS
One of the main demands of the movement of people with disabilities that will be raised during the Pan-Cyprus rights assertion event held outside the Presidentialon Friday, December 2, is the planning and implementation of an adequately funded deinstitutionalization strategy for the purpose of ensuring the equal right of citizens to live in the community with choices equal to others, and taking effective and appropriate measures to facilitate their full integration and participation in the community, the Cyprus Confederation of Disabled Organizations (CYSOA) states in a press release.
"Executive, legislative and judicial powers must ensure that there will be an end to the ongoing crime against people who, against their will, are led to incarceration in institutions," he adds. It states that all preventive and other possible measures must be taken to effectively supervise and monitor the living conditions of people with disabilities residing in institutional structures, such as psychiatric facilities, nursing homes, community homes or other settings, the investigation and accurate determining the causes and conditions of death of people with disabilities, including suicide.
Then, after noting that it is estimated that more than 13 thousand citizens of all ages still live in institutional structures, including four thousand people with disabilities, adds that the permanent position of KYSOA is to immediately end the forcing of people with disabilities into confinement in institutions.
He calls for an immediate end to the unacceptable policies and practices of the Republic of Cyprus, according to which refers to people with mental, intellectual, psychosocial, motor and visual disabilities are forced to stay in institutions that are characterized, among other things, by the absence of security conditions, measures to protect against the pandemic, the inadequacy of the staff and the very low funding for their operation.