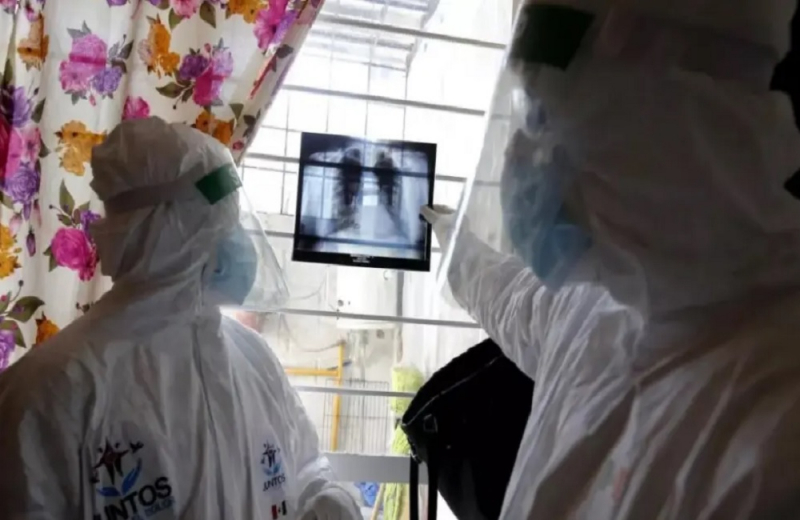 With the help of xenon gas, scientists have been able to detect abnormalities in the lungs that are not detected by a simple x-ray
In some patients with long-term Covid , researchers at the University of Oxford have identified hidden damage to their lungs using an innovative method .
According to their pilot study, British scientists used an X-ray method in patients with Covid and, with the help of xenon gas, were able to detect abnormalities in the lungs that could not be detected by a single X-ray. According to the BBC, their study focused on 11 patients who did not need hospital treatment when they first had a coronary artery stroke but developed long-term shortness of breath after being infected.
A larger, more detailed study is underway to confirm the results, as scientists were quick to point out. For the researchers, their findings shed some light on the reasons why shortness of breath is so common in people with "long Covid", although the reasons for its appearance and prolonged duration are often many and complex.
"The journey of oxygen"
The team from Oxford, Sheffield, Cardiff and Manchester compared x-rays of patients who had inhaled xenon gas and had undergone other tests on their lung function. The volunteers were divided into three groups: those who had long-term Covid and shortness of breath but were not hospitalized when infected, 12 people who were hospitalized with Covid but did not have long Covid, and 13 healthy individuals. Using the new approach, all participants inhaled xenon gas during magnetic resonance imaging (MRI).
This gas behaves almost like oxygen, but can be detected visually during X-rays so that scientists can "see" how well it moved from the lungs into the bloodstream – a crucial step in transporting oxygen throughout the body. The researchers found that, for the majority of people with long-term Covid, transmitting the noble gas was less efficient than in healthy volunteers.
In addition, those admitted to the hospital with Covid had similar abnormalities. The lead researcher in the field of lungs, Dr. Emily Fraser, stressed that it is disappointing that people come to her clinic and doctors can not explain exactly why they are short of breath. Often, he says, X-rays and CT scans do not show abnormalities. "This is an important research and I really hope it will shed more light on it," she said.
PROTOTHEMA.GR