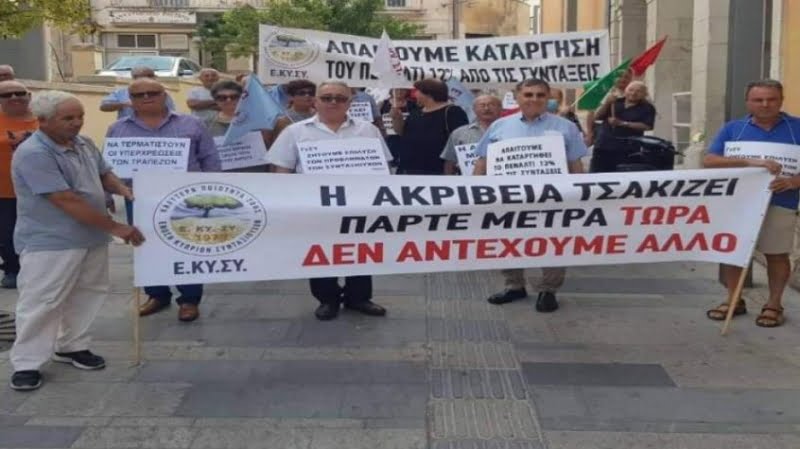 The issue of the abolition of the 12% penalty on pensions was discussed on Friday with the President of DIKO Nikolas Papadopoulos, a delegation of the Initiative Group, which represents 19 organizations representing salaried workers, pensioners, farmers, small and medium-sized enterprises, young people, women and in general the whole range of TKA insured persons.
According to a statement by EKYSY, "the President of DIKO clearly expressed his disagreement with the positions of the Initiative Group", while "he expressed agreement and identification of views with the positions of the Minister of Labor that, based on mathematical operations, the reduction could not be imposed of 12% after the age of 81 of the insured" and "also referred to an increase in the retirement limit to 67 or 68 years, which he claims will be inevitable".
In the EKYSY announcement it is stated that Mr. Papadopoulou's statements "completely disappointed the delegation of the Initiative Group for the abolition of the 12% penalty in pensions, which strongly disagreed with this anti-social approach which unfairly treats insured persons with many years of service and payment of contributions" and told Mr. Papadopoulos that "its efforts will continue and intensify until the problem is resolved".
He also told the President of DIKO that "based on the latest actuarial study done by TKA, it has been shown that the Fund is still long-term sustainable, until 2080".
The Initiative Group also stated, according to the announcement, that it is becoming necessary and immediate phased repayment planning of the state's large debt to the Social Insurance Fund (7.5 – 8 billion euros), the creation of a real reserve of the Fund and the improvement of its investment policy by granting even a low interest rate, as well as the decision-making to address the demographic problem, and other measures so that TKA meets its social role".
According to the EKYSY announcement, the delegation of the Initiative Group "taking into account that almost all other measures imposed on us by the Troika have been abolished, he decided and addressed to all parties and presidential candidates with a strong plea to support our effort to finally resolve this mature social demand which is becoming now under the current social conditions, absolutely timely and necessary and negatively affects too many insured people with too many years of work and contributions". pensions are the PEO, EKYSY, POVEK, Movement for the Immediate Abolition of the 12% Cut-off for pension at 63 for all, Retired Environmentalists Movement, Third Age Observatory, EKA, POGO, Women's Environmentalists' Movement, EDON, Environmentalists' Youth, Teachers' Progressive Movement, Progressive Teachers' Movement, People's Bank Employees' Association, SY.ME.A., POASO, Pancyprian Equality Union, EDEF, PSEM.