POWERED BY:
21:26 Monday
March 14, 2022 INSIDER • GOAL • IN-CYPRUS • PROPERTY • CYPRUS-IS • CAREER LIKE • GOING OUT • XRYSES SYNTAGES • ACTIVE • PHILGROUP NEWS & nbsp; SOCIETY & nbsp; INSIDER & nbsp; OPINIONS & nbsp; GOING OUT & nbsp; CULTURE & nbsp; SPORTS & nbsp; AUTO & nbsp; GOOD LIFE & nbsp; USEFUL & nbsp; PRINTED EDITION & nbsp;
ARCHIKIEIDISEISPOLITIKITOPIKAPARASKINIOMEDIAELLADAKOSMOSEPISTIMIPERIVALLONTECHNOLOGIASYNENTEFXEISCHRYSES ETAIREIESKOINONIAEIDISEISKYPROS OF CHTHESANAGNOSTI HAVE LOGOEPISTOLESSYNENTEFXEISDIMOFILI IN INTERNETVIDEOSAFIEROMATAADVERTORIALINSIDEREPICHEIRISEISKYPROSBRAND VOICECAPITALFORBESBLOOMBERG OPINIONPROTAGONISTESKAFTI GRAMMICHRYSES ETAIREIESKARIERAAPOPSEISARTHRA IN "F" INTERVENTION IN "F" MESSAGE YOUR SKITSAO WORLD TWITTERGOING OUTTHINGS TO DOCINEMAMOUSIKIESTIATORIABAR/CAFETV ODIGOSTILEORASIPOLITISMOSKYPROSKOSMOSKRITIKESEKDILOSEISPROSOPAATHLITIKAPODOSFAIROMPASKETPARASKINIAELLADADIETHNIALLA SPORAPOPSEISSKITSOVIDEOSAUTONEAPAROUSIASIAPOSTOLESAGONESKALI ZOIFGEIADIATROFIEF ZINASTRACHRYSES SYNTAGESSYNTAGES SEFVIMA VIMACHRISIMAFARMAKEIAGIATROIAERODROMIALIMANIATILEFONAOPAPKAIROSSYNALLAGMALACHEIAAPPSPROSFORESENTYPI EDITION POLITIKITOPIKAPARASKINIOMEDIAELLADAKOSMOSEPISTIMIPERIVALLONTECHNOLOGIASYNENTEFXEISCHRYSES COMPANIES EIDISEISKYPROS OF CHTHESANAGNOSTI HAVE LOGOEPISTOLESSYNENTEFXEISDIMOFILI THE INTERN ETVIDEOSAFIEROMATAADVERTORIAL EPICHEIRISEISKYPROSBRAND VOICECAPITALFORBESBLOOMBERG OPINIONPROTAGONISTESKAFTI GRAMMICHRYSES ETAIREIESKARIERA ARTICLES IN "F" INTERVENTION IN "F" MESSAGE YOUR SKITSAO WORLD OF TWITTER THINGS TO DOCINEMAMOUSIKIESTIATORIABAR/CAFETV ODIGOSTILEORASI KYPROSKOSMOSKRITIKESEKDILOSEISPROSOPA PODOSFAIROMPASKETPARASKINIAELLADADIETHNIALLA SPORAPOPSEISSKITSOVIDEOS NEAPAROUSIASIAPOSTOLESAGONES YGEIADIATROFIEF ZINASTRACHRYSES SYNTAGESSYNTAGES SEFVIMA STEP FARMAKEIAGIATROIAERODROMIALIMANIATILEFONAOPAPKAIROSSYNALLAGMALACHEIAAPPSPROSFORES ENTERPRISES LTD BRAND VOICE CAPITAL FORBES BLOOMBERG OPINION PROTAGONISTS HOT LINE GOLDEN CAREER COMPANIES
EXCLUSIVE COOPERATION
TOGETHER WITH
Powered by
Next Paphos Shopping Center: Study to increase traffic through happenings HOME • INSIDER • CYPRUS • Paphos Shopping Center: Study to increase traffic through …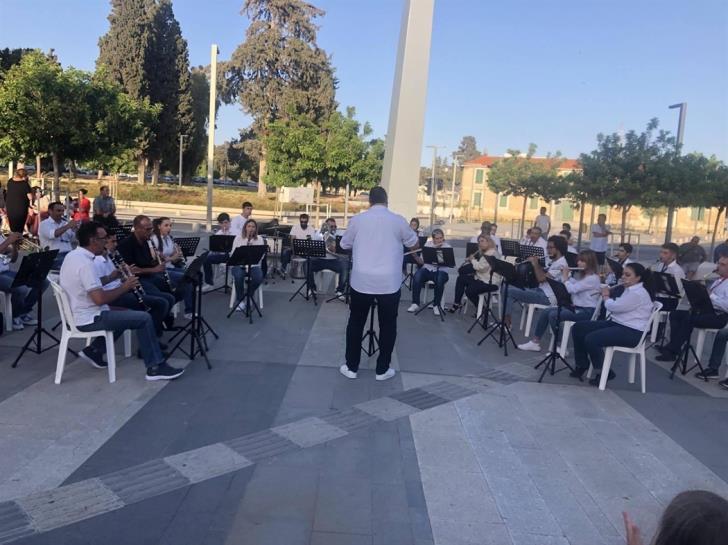 & nbsp & nbspNтоρα Χριστοδούλου & nbsp; & nbsp ;
As a very attractive and relatively inexpensive effort to strengthen the commercial traffic in the center of Paphos, consider representatives of professionals and organizations of the city, & nbsp; the establishment on a permanent basis of music and dance events in the historic and shopping center & nbsp; after finding traffic in stores Retail trade is still sluggish, despite the recovery in recent years.
The idea, which follows a relevant proposal submitted by former councilors, is on the table in recent days & nbsp; according to our information, as a very reinforcing perspective on the upgrade that is already taking place in the city market after the renovation of the center the finding that the aesthetic and functional upgrade of the area is not accompanied by a corresponding improvement of its traffic in terms of the shopping department and not the catering.
The initial thoughts, according to information from "F", include the involvement of & nbsp; local & nbsp; music and dance & nbsp; bands, private & nbsp; music & nbsp; schools, the & nbsp; Municipal & nbsp; Conservatory and the Municipal Philharmonic for the free provision of their services. Plans provide & nbsp; as these actions & nbsp; take place during periods that allow citizens to descend into the market, such as Saturday and Sunday mornings or Wednesday afternoons, in a different location within the historic center each time and will be combined with & nbsp; relevant information material for the initiative, which will be distributed through & nbsp; hotels and other tourist gathering places & nbsp; to inform the visitors of Paphos, when the tourist flow resumes after the normalization of the situation with the pandemic.
In this way, these factors estimate, & nbsp; the & nbsp; conditions will be created for more people to visit, local and foreign tourists, the historic shopping center & nbsp; and at the same time the local shopkeepers will be helped. & Nbsp;