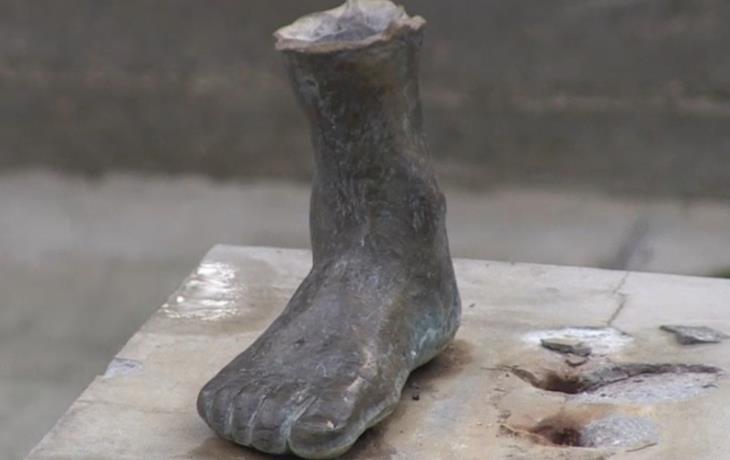 A piece that appears to be part of the bronze sculpture that was stolen in Paphos was found by the Police in the early hours of Friday, in a rural area of ​​Tremithousa.
According to the Police Director of Paphos, Nikos Tsapi, based on information provided to the Paphos Crime Investigation Department, on Thursday afternoon members of the TAE located in a rural area of ​​the village of Tremithousa, a fragment, which is believed to be from the bronze sculpture, which were taken by unknown persons from Ibrahim's Hani in the early hours of last Saturday. The Police investigations lasted all night and even lasted until this Friday morning.
Mr. Tsapis said that the scene has been put under guard and the examinations, at the first light of the day. , are expected to continue to locate the remaining pieces. In addition, Mr. Tsapis mentioned that the Chief of Police showed interest in the whole matter.
Besides, according to the Press Representative of the Paphos ADE and the head of the Paphos TAE, Michalis Nikolaou, after the arrest of two persons, a 55-year-old and a 37-year-old, who are under house arrest for four days, from the further examinations of the Paphos TAE, testimony emerged that at some stage the statuette passed into the possession of two other persons, aged 24 and 50.
Arrest warrants were issued against the 24-year-old and the 50-year-old for the crime of receiving stolen goods. The 24-year-old was arrested and is in custody, while the 50-year-old is wanted. A 43-year-old woman is already wanted for the same case. Moreover, when interrogated, the 55-year-old allegedly confessed to having committed the crime.
According to the Police, on January 31, information was given, according to which the 55-year-old, together with the 43-year-old wanted woman, were in possession of the statue that was stolen and which depicts "The little girl with the hula hoop".
In investigations carried out by members of the TAE Pafos in the property monitoring circuits of the area, some persons were seen to transport the statue by dragging it. A motorcycle was also seen coming and going in the area.