The new facilities of the Schools will be located in a privileged location in the area of ​​Palodia in Limassol
PASCAL Education is pleased to announce a milestone development that underscores its commitment to providing high-quality education. With an unwavering dedication to academic excellence and the holistic development of our students, we are proud of the implementation of our new state-of-the-art facilities in Limassol.
The new School facilities will be located in a privileged location in the Palodia area in Limassol, providing a calm and conducive school climate that supports the development of knowledge, creativity and innovation.
Mr. Andreas Andreou, Executive Director of PASKAL Schools in Limassol, said: "We are particularly satisfied with this important development, the single, that is, co-housing of all levels of education, in our new school facilities. With this state-of-the-art project, a very important goal is realized which is to provide a seamless educational experience for all our students, from their first school steps, from nursery and primary school, to their transition to secondary education. We are working hard to complete this massive project as quickly as possible and look forward to seeing our students thrive in their new school environment."
Mr. Joseph Merhi, CEO of AGC Contractors Ltd, said: "We are honored and grateful to have been chosen to build the school complex of PASCAL Schools in Limassol. This selection, not only marks an important milestone in our company's journey, but also strengthens the relationship between the two organizations that has flourished over two decades. Our long-term partnership with PASCAL Education is characterized by trust, mutual respect and a shared commitment to excellence in education and the manufacturing sector."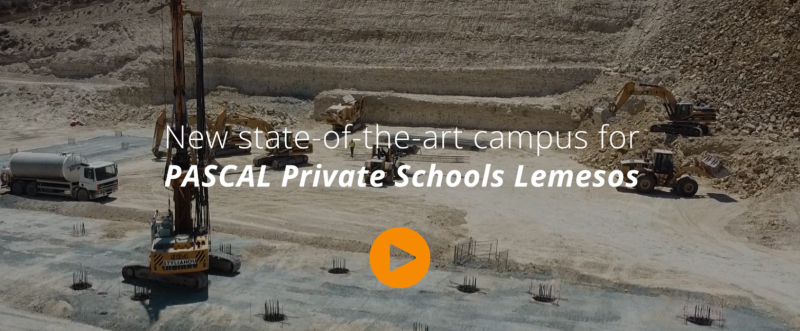 YouTube Link: https://www.youtube.com/watch?v=PDHqWln_v2Q 
The new facilities include modern, interactive classrooms (28 for Elementary and 36 for Middle/High School), Technology and Science labs, STEAM labs, as well as Art rooms and Music studios. In addition, on the premises, there will be a sports complex with a heated swimming pool, a football field, indoor, basketball, football, handball and athletics fields, with the aim not only of improving and ensuring the physical condition of children, but also more broadly at promoting the sporting ideal .
The state-of-the-art library that will have an extensive collection of books and digital resources, as well as a bookstore, will be a springboard for knowledge and the cultivation of education, while the closed amphitheater that will be created will be used as a venue for multiple events. The restaurant and cafeterias will serve as a place of hospitality, communication and catering, both for the students, but also for our staff and visitors.
Staff, parents and visitors will be able to use convenient and secure parking areas, internal paved roads, as well as electric car charging stations. Finally, our new facilities will include, among other things, the installation of a photovoltaic system. The new school complex follows modern environmental standards, ensuring sustainability and environmental responsibility, which is a priority for all Globeducate schools.
PASCAL Education is a leading educational organization, dedicated to excellence in education. With a rich history of more than thirty years, we cultivate and promote the holistic development of our students, making them, at the same time, responsible, active, aware citizens of the world who can shape the future. The new state-of-the-art school complex in Limassol, with its new building facilities and now upgraded look, promises to be a milestone in your children's school journey.
< iframe width='300px' height='500px' src='https://www.adstorebluebird.cy/api/banner/ServeBanner?zoneId=2734' frameborder='0' scrolling='no'>