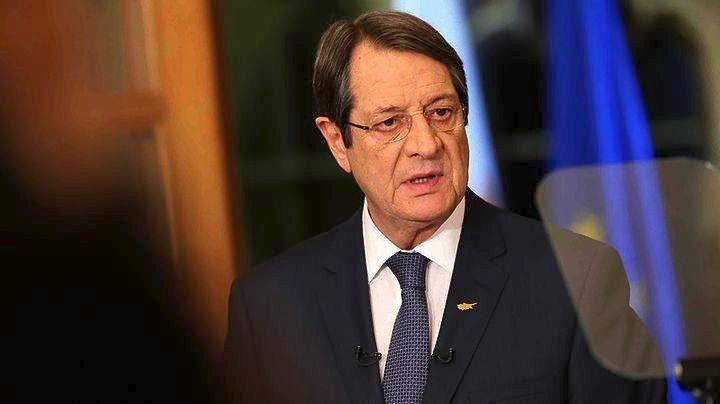 Andreas Pimpisis
All indications are that the Eastern Mediterranean pipeline is maintained only as a project under study, without showing the prospect of its construction. One by one the countries (see France) agree with the American estimate that the cost is such that the pipeline cannot be built. In Nicosia, however, the government insists on keeping the project on the ventilator, awaiting final expert reports before agreeing to decouple it.
The turn of events with the pipeline is causing unrest inside, while at the same time different approaches are being recorded within the government camp. Approaches that President Anastasiadis tried to overtake yesterday, at the same time firing in the direction of the opposition.
When asked yesterday to comment on the Foreign Minister's statement that "EastMed has always been a tool for provoking problems", President Anastasiadis replied: views that he once expressed ".
But 24 hours earlier, Ioannis Kasoulidis, speaking to RIK, stated that "the construction of the pipeline was in the air from the beginning and now it remains to confirm that the specific project is financially unsustainable." He added that he saw EastMed "as a tool for creating problems, especially with regard to efforts to resolve the Cyprus issue".
The reactions that emerged after the American positions have bothered President Anastasiadis, who yesterday wanted to give the facts as they are at the moment. He reiterated, as he had done in a written statement on Monday, that the project was a joint decision of three governments: If anyone in Cyprus blames the Government of Cyprus or hastens triumphs, I thank them for acknowledging the great influence that Cyprus has and on neighboring countries and especially in the European Union ".
SEE ALSO:
PTA for EastMed: Instead of windy words, there should be proposals Pipeline causes turmoil – Turmoil inside
In other words, he continued, "we dragged the European Union to consider it a public benefit project, we dragged Israel, we dragged Greece and possibly Egypt", to add that "it is time to get serious. In any project, the viability study is always a prerequisite. The decision is made, the studies are done and if a project is feasible, it is implemented. If not, there are alternatives that will help transfer the natural wealth of the eastern Mediterranean basin to the European Union, a vital issue for the European Union, a question of security, adequacy of supplies, etc. "
When, he was asked to comment on AKEL's characterizations that EastMed is "words of the air", but also the criticism of the opposition that the Government failed to shield the Cypriot EEZ and to defend the Republic of Cyprus against the constant challenges of Turkey, the PD seized the opportunity: "What I did not hear from AKEL is a proposal either to the National Council or through the debates in Parliament, to suggest us to buy submarines to shield the EEZ of the Republic of Cyprus, or warships, or aircraft ».
Finally, he said, "it is time, instead of words in the air for the sake of opposition, to have proposals for concrete actions. And if they mean that we have to take the initiative – which I often hear – to start the dialogue again, I want them to answer me bluntly. I can take the initiative by coming to the table, but accepting on Turkish terms that the debate will take place on the basis of the two states. Is that what they suggest I do? "
AKEL: To answer to his minister
Hezekiah Papaioannou's answer is laconic, but very targeted, asking President Anastasiadis "first to answer to his Foreign Minister about EastMed and then to AKEL."
Continuing, AKEL points out that "for the collapse of illusions and all their politics, he is responsible together with Messrs. Averof Neophytou and Nikos Christodoulidis. Not those we warned about in time. "