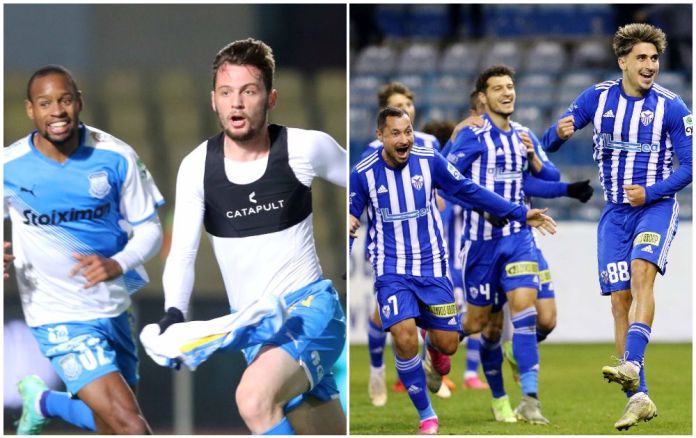 Significant reshuffles in the standings brought the settlement of two other pending issues from the postponed games of the 15th matchday.
In the first game on Thursday, Apollon took a huge victory in the Limassol derby, prevailing 2-1 over AEL, thanks to a reversal in the 90th minute.
The blue and whites… escaped from their pursuers, as they widened their difference to +8 from the second AEK and to +9 from the third Aris, a distance that makes them a big favorite for the title. At the same time, Apollon kept the +11 from APOEL and the +13 from Anorthosis, teams which "owe" another game, the one between them next Thursday (17/2).
In the match that followed, Anorthosis also managed to beat Aris 3-1 with a reversal and take the most decisive step for the six.
The "Lady", who went up fifth, went to +3 from the seventh Omonia and needs three points in the three games she has to give to seal her presence in the first group, while at the same time she has reduced to -5 from second place having less race.
As for the losers of the day, AEL saw its last chances for the top six disappear, while Aris lost the opportunity to return to second place and was at -9 from the top.
See how the score was formed and below the schedule of the last two games and the postponed games that are left:
1. Apollo 44 (20)
2. AEK 36 (20)
3. Mars 35 (20)
4. APOEL 33 (19)
5. Correction 31 (19)
6. Paphos 29 (19)
7. Omonia 28 (20)
8. AEL 21 (19)
9. Olympiacos 18 (19)
10. Glory 18 (19)
11. PAEK 13 (18)
12. National 12 (20)
Follow:
21st match
National – Paphos (13/02, 19:00)
Anorthosis – Olympiacos (14/02, 18:00)
APOEL – AEK (14/02, 20:15)
AEL – Doxa (15/02, 17:00)
PAEEK – Apollon (15/02, 19:00)
Aris – Omonia (16/02, 18:00)
Postponed from the 16th game
APOEL – Anorthosis (17/02, 18:00)
Doxa – Paphos (18/02, 17:00)
AEL – PAEEK (18/02, 19:00)
22nd match
Paphos – Mars
Apollo – Anorthosis
Omonia – APOEL
Doxa – PAEEK
AEK – AEL
Olympiacos – National
Postponement of the 20th race
Olympiacos – PAEEK