POWERED BY:
18:26 Thursday
28 April 2022 INSIDER • GOAL • IN-CYPRUS • PROPERTY • CYPRUS-IS • CAREER LIKE • GOING OUT • XRYSES SYNTAGES • ACTIVE • PHILGROUP NEWS & nbsp; SOCIETY & nbsp; INSIDER & nbsp; OPINIONS & nbsp; GOING OUT & nbsp; CULTURE & nbsp; SPORTS & nbsp; AUTO & nbsp; GOOD LIFE & nbsp; USEFUL & nbsp; PRINTED EDITION & nbsp;
ARCHIKIEIDISEISPOLITIKITOPIKAPARASKINIOMEDIAELLADAKOSMOSEPISTIMIPERIVALLONTECHNOLOGIASYNENTEFXEISCHRYSES ETAIREIESKOINONIAEIDISEISKYPROS OF CHTHESANAGNOSTI HAVE LOGOEPISTOLESSYNENTEFXEISDIMOFILI IN INTERNETVIDEOSAFIEROMATAADVERTORIALINSIDEREPICHEIRISEISKYPROSBRAND VOICECAPITALFORBESBLOOMBERG OPINIONPROTAGONISTESKAFTI GRAMMICHRYSES ETAIREIESKARIERAAPOPSEISARTHRA IN "F" INTERVENTION IN "F" MESSAGE YOUR SKITSAO WORLD TWITTERGOING OUTTHINGS TO DOCINEMAMOUSIKIESTIATORIABAR/CAFETV ODIGOSTILEORASIPOLITISMOSKYPROSKOSMOSKRITIKESEKDILOSEISPROSOPAATHLITIKAPODOSFAIROMPASKETPARASKINIAELLADADIETHNIALLA SPORAPOPSEISSKITSOVIDEOSAUTONEAPAROUSIASIAPOSTOLESAGONESKALI ZOIFGEIADIATROFIEF ZINASTRACHRYSES SYNTAGESSYNTAGES SEFVIMA VIMACHRISIMAFARMAKEIAGIATROIAERODROMIALIMANIATILEFONAOPAPKAIROSSYNALLAGMALACHEIAAPPSPROSFORESENTYPI EDITION POLITIKITOPIKAPARASKINIOMEDIAELLADAKOSMOSEPISTIMIPERIVALLONTECHNOLOGIASYNENTEFXEISCHRYSES COMPANIES EIDISEISKYPROS OF CHTHESANAGNOSTI HAVE LOGOEPISTOLESSYNENTEFXEISDIMOFILI THE INTERN ETVIDEOSAFIEROMATAADVERTORIAL EPICHEIRISEISKYPROSBRAND VOICECAPITALFORBESBLOOMBERG OPINIONPROTAGONISTESKAFTI GRAMMICHRYSES ETAIREIESKARIERA ARTICLES IN "F" INTERVENTION IN "F" MESSAGE YOUR SKITSAO WORLD OF TWITTER THINGS TO DOCINEMAMOUSIKIESTIATORIABAR/CAFETV ODIGOSTILEORASI KYPROSKOSMOSKRITIKESEKDILOSEISPROSOPA PODOSFAIROMPASKETPARASKINIAELLADADIETHNIALLA SPORAPOPSEISSKITSOVIDEOS NEAPAROUSIASIAPOSTOLESAGONES YGEIADIATROFIEF ZINASTRACHRYSES SYNTAGESSYNTAGES SEFVIMA STEP FARMAKEIAGIATROIAERODROMIALIMANIATILEFONAOPAPKAIROSSYNALLAGMALACHEIAAPPSPROSFORES ENTERPRISES LTD BRAND VOICE CAPITAL FORBES BLOOMBERG OPINION PROTAGONISTS HOT LINE GOLDEN CAREER COMPANIES
EXCLUSIVE COOPERATION
TOGETHER
Powered by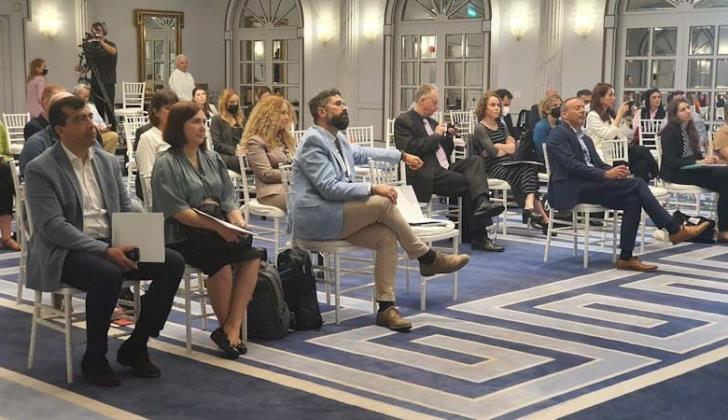 & nbsp & nbspInsider/ΚΥΠΕ & nbsp; & nbsp;
At the heart of the tourism strategy are small, local communities, said Deputy Minister of Tourism Savvas Perdios in his greeting on Thursday at the opening of the final two-day conference of the Desti Smart Interreg Europe project, at the Annabelle Hotel in Paphos, organized by the Tourism Development and Promotion Company Paphos Region, which is a partner of the project.
Paphos Deputy Mayor Christos Makariou on behalf of the Paphos Mayor and the President of the Paphos ETAP Kyriakos Drousiotis also addressed the conference.
In his greeting, which was made online, Mr. Perdios expressed his satisfaction for the fact that the tourism of Cyprus is already on the path of sustainable and smart transition. He spoke about the national strategy for tourism for 2020-2030, which started in January 2020 a few months before the pandemic. He noted that the crisis created by the pandemic was addressed and the national tourism strategy went ahead.
Mr. Perdios stated that the national strategy for tourism is based on five pillars lasting until 2030 where the goal is to turn Cyprus into a full-time tourist destination, to establish itself as a destination of higher quality, environmentally friendly, digitally smart destination. and a tourist destination that will benefit all residents.
As for the last point, he said that it means two things that we do not focus only on the beach resorts, but we focus on highlighting the whole island as a destination and that we ensure that the locals and small local communities are at the heart of our tourism strategy./p>
So, he noted, tourism is actually a focal point for our local communities, adding that this is very important. "In this way we integrate the locals into what we do," he said.
Finally, he congratulated Paphos for the efforts and efforts it makes to establish itself as a year-round, smart and high quality tourist destination.
Manos Vougioukas, Coordinator of the project and the European program Desti-Smart Interreg Europe in his statements to the journalists stated that the final conference of the project takes place these two days after four years of work with ten partners, one of which from Cyprus and specifically from Paphos and 9 other countries of the European Union in order to enhance the tourist destinations in order to become more efficient through technology and especially the mobility of the visitors.
As Mr. Vougioukas mentioned the Desti-Smart project Interreg Europe & nbsp; aims to improve transport and tourism policies to destinations, integrating strategies for sustainable mobility, accessibility and responsible travel into sustainable tourism development through efficiency, sustainability, intermodality, new transport systems, cycling & hiking. ;
He added that "the Desti-Smart Interreg Europe project also aims to introduce sustainable and smart mobility solutions, low carbon transmission systems, intermodality improvements, cycling and hiking facilities for visitors, with relevant innovations and resilience, to tourist destinations."
These are, he continued, important additions to the concept and definition of "smart destinations", especially due to the sustainable and smart tourism mobility.
The above results from interregional cooperation, exchange of experiences, capacity building, policy development and policy change for sustainable tourism mobility, towards "smart destinations", he added.
Moreover, in his statements, the Director of ETAP, Nasos Hadjigeorgiou, expressed his satisfaction, noting that today a project is being completed whose topics are fully in line with the strategy of the province of Paphos. He added that the goal and purpose of all Paphos partners is the destination & nbsp; to become even smarter. He added that through this program they have managed to receive good practices and with funding from the EU, he continued, they have implemented a specific pilot action plan which can be used mainly by visitors. & Nbsp;
At the conference, among other things, the organizers mentioned that the Desti-Smart project with the ultimate goal of smart destinations contributes to the EU's commitment to building an environmentally sustainable low-carbon economy with smart technologies.
The project facilitates the adoption of ICT (information and communication technology) solutions for sustainable mobility and accessibility to tourist destinations, thus making tourism in European regions more efficient in various ways. Sustainable and responsible tourism can greatly benefit, as mentioned, from digital applications at all stages of visitor information, travel guidance, intermodality and seamless travel solutions.
ETAP President Kyriakos Drousiotis said, among other things, that it is wonderful to know that the conference provides a forum to bring together a wide range of stakeholders and experts from so many countries around the world that deal with one of the most important issues. Sustainable tourism mobility to smart destinations.
The latest trends in tourism are very closely linked to the theme of our conference, including automation, transformational travel, experience stories and more, he said.
He added that everyone should think about the needs of future generations ensuring that they will inherit a safe and healthy planet to live and thrive in the way we travel, what cars we buy, how we live, how we spend, etc.
Referring to cycling and work, Mr. Drousiotis said that they have evaluated and strengthened the cycling facilities for visitors, such as the development of new roads, and included cycling tourism as a sustainable mobility of low-carbon tourists, products and services in their promotion plans. & nbsp; He also continued, during the pilot action they test the mobility as a service for sustainable tourists.
In his greeting, the Mayor of Paphos, read by the Mayor Christos Makariou, stated that their strategic plan, as the Municipality of Paphos, is to make Paphos a smart and digital city and at the same time to create a new pillar, the third pillar in the local economy based on innovation and in university education focusing on attracting talent from the Middle East and North Africa. Thus, as & nbsp; "We focus on three key areas: smart and digital city, education and innovation".
To achieve this goal, the Municipality of Paphos & nbsp; he added, has already implemented nine key projects and actions that will then form the basis for other combined complementary projects. We have already implemented & nbsp; stressed, the data collection infrastructure from the various applications using the LoRaWAN Network. Smart parking, smart lighting, smart poles and GIS systems will be delivered soon.
An important project expected to start in the coming days is smart water resources management, he added. Mr. Makariou stressed that the Municipality of Paphos faces serious challenges in terms of monitoring and management of water resources in real time, including the quantity and quality of water and water supply and distribution infrastructure. Therefore, this project intends to implement an integrated system to address all challenges, he added.