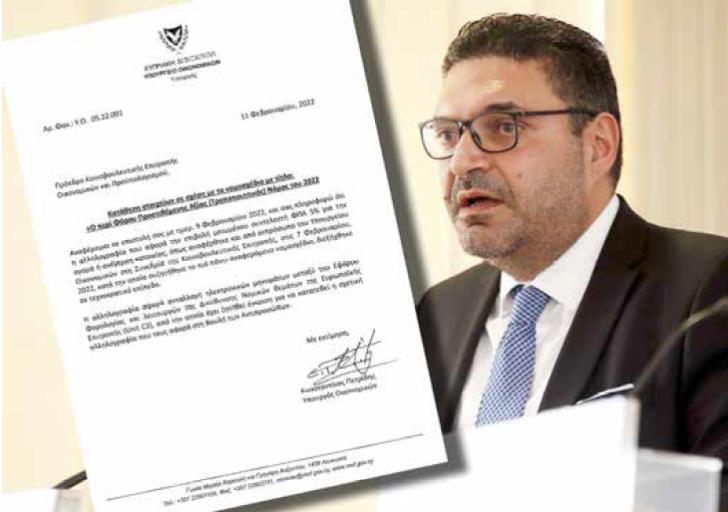 Eleftheria Paizanou
The technocrat who had exchanged emails with the Directorate of Legal Affairs of the European Commission on the issue of the reduced tax rate on real estate (giving a rather misleading picture of what was really going on in Cyprus), is clearly photographed, in a letter to Parliament, the Minister of Finance Konstantinos Petridis.
Petridis's letter states that the correspondence that took place at a technocratic level and related to the exchange of electronic messages was between the Tax Registrar and the European competent officials. "The correspondence concerns the exchange of electronic messages between the Tax Registrar and officials of the Legal Affairs Directorate of the European Commission (Unıt C3)," the minister notes.
SEE ALSO: Commission will not accept new VAT scams on homes
Although Mr. Petridis does not make any reference to the name of the Tax Registrar, however, at the time of the exchange of electronic messages, the head of the Tax Department was Giannis Tsagaris (he was Registrar from 21/02/2016 until 06/07 / 2021), which is well known, especially to the addressees of the letter.
The minister was responding to a letter from the chairwoman of the Parliamentary Committee on Finance and DIKO MP Christiana Erotokritou, who asked to be informed about the technocrat who had undertaken the negotiations with the European Union (EU). He also requested the submission of the relevant correspondence to the Parliament. In relation to the submission of the correspondence, as the minister notes, the approval of the EU has been requested to be submitted to the Parliament.
Correspondence and … omission
A few days ago, it was said at a meeting of the Parliamentary Committee on Finance that the Cypriot authorities hid the real data about VAT on homes in Brussels. According to documents held by "Φ", on December 18, 2020, the European Commission contacted the Cypriot authorities, requesting information on the reduced VAT rate of 5% applicable in Cyprus. On January 12, 2021, the Cypriot authorities explained in writing that the reduced VAT rate of 5% is part of the social policy (s.f. as required by the European Directive) and covers cases where the residence in Cyprus is used by a beneficiary as a permanent space. of residence and applies for the first 200 sq.m., provided that the house does not exceed 275 sq.m.
However, the specific practice in question was applied until November 2016, as since then the legislation has been amended and until today provides for the imposition of 5% VAT on the first 200 sq.m. of a house, without a limit (ceiling) on the total area of the property.
READ MORE IN THE PUBLISHED FILELEFTHERO PRESS