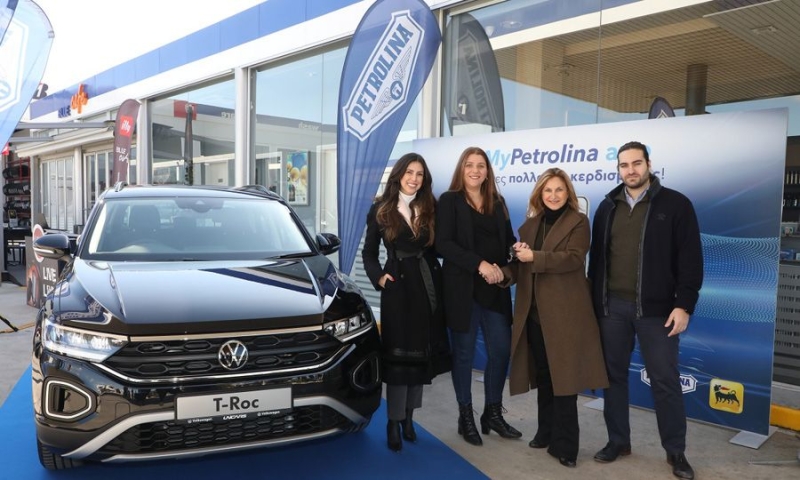 The great gift of the MyPetrolina digital application, a Volkswagen T-Roc car, was presented by Petrolina to Andrea Achilleos, in a special event held on Thursday, February 9, 2023, at the Petrolina gas station in the area of ​​the new GSZ in Larnaca, in the presence of executives and partners of Petrolina (Holdings) Public Ltd and the Director of Unicars in Larnaca.
The delivery of the car, at the fully renovated Petrolina gas station in GZZ, was broadcast via live link. The service station has, among other things, a state-of-the-art automatic car wash as well as the option to wash the vehicle by hand with sterilized water, a modern vehicle care area, Car Spa, where services such as car polish and wax, headlight cleaning, interior cleaning are provided car with steam and biological products as well as a renewed waiting area.
It is noteworthy that this gas station is the first gas station in Cyprus, in which a state-of-the-art high-speed charger for electric vehicles has been installed.
During the event, the Executive Director of Petrolina (Holdings) Public Ltd, Ms. Georgia Lefkaritis, emphasized that the MyPetrolina application is part of Petrolina's strategy towards digital transformation in all areas of the company, so as to provide better products and services to its customers, rewarding their transactions and offering them the opportunity to be multiple earners.
Full of surprises, as promised and delivered, the MyPetrolina app rewards loyal customers and rewards their transactions at Petrolina, Agip and Eni stations, giving them the opportunity to claim rich prizes and take advantage of exclusive offers.
The selection of the grand winner as well as the last four weekly lucky winners who used the MyPetrolina application at Petrolina, Agip and Eni stations and won motor fuel gift vouchers worth €250 each, with a total value of €1000, took place in accordance with the Terms and Conditions of Participation in promotion, in which all MyPetrolina app members had the right to participate. The correctness and transparency of the process were ensured by the presence of a member of the Board of Directors, directors and staff of the company.
It is worth mentioning that during the months of October to December 2022, there were a total of 48 weekly lucky winners who won motor fuel with a total value of 12,000 euros, one lucky winner who won a travel package for two with accommodation in Athens and one lucky winner who win a Sony PlayStation 5 and FIFA 23.
You can download the MyPetrolina app via the App store or Google Play and register as a member for free.
MyPetrolina app and win many times over!
www. petrolina.com.cy