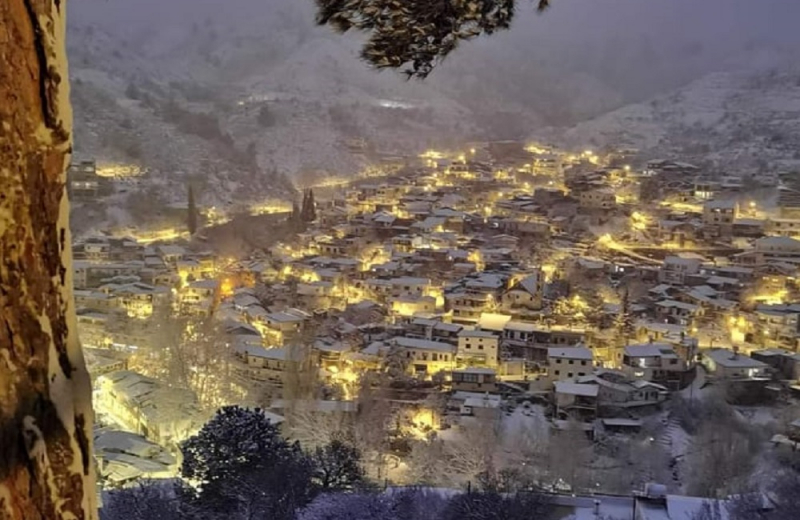 PHOTOS: CHRISTOS THEODORIDIS
Everyone is enchanted – and not unjustly – by the snowy landscapes throughout free Cyprus. Today many woke up seeing everything covered in white, while many children did not go to school and stayed at home. Although it seems that on Friday the intense weather phenomena subside, according to the Meteorological Department, a new wave of cold will visit us again from next Sunday afternoon.
"The cold gas mass that affects Cyprus today and tomorrow Thursday will start to heat up tomorrow Thursday and Friday so that Friday and Saturday are at normal levels for the season, but from what appears from Sunday, Monday, again a cold gas mass will affect us and maybe in that case we will have snow or sleet and in lower areas said to politis.com.cy the official of the Department of Meteorology, Theodoros Hatzigeorgiou. He noted that the phenomena are less intense than in Greece and that this wave of cold has arrived from Greece and Turkey and will affect us until Friday.
Tonight, according to the forecast of the Department of Meteorology, will be the coldest night of winter, with the temperature being at 0 degrees Celsius, inland, around 4 in the south and east, at 6 on the rest of the coast. In the mountains the temperature will drop to -9.
The characteristics of the cold wave that affects us, Mr. Hatzigeorgiou explained, "are mainly the north winds, a north wind wave and we usually have light snowfall. From the night that the atmosphere clears, the temperature will drop further ".
Finally on Saturday we expect new rains and local thunderstorms mainly from the afternoon. There will be an improvement on Sunday but the temperature will drop slightly. For the month of January we have covered 94% of the corresponding normal rainfall.
Video from snowfall in Arakapa
Photo posted by Facebook user Alexis Rigas in the group "KAIROFILOI KYPROU"