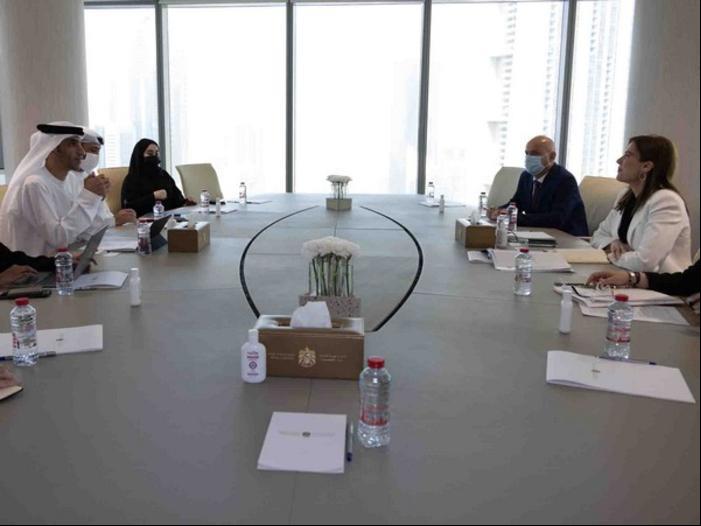 & nbsp & nbspInsider/ΓΤΠ & nbsp; & nbsp;
Today's private meeting of the Minister of Energy, Trade and Industry, & nbsp; Natasa Pileidou with her counterpart, the Minister of Foreign Trade of the UAE, Ahmad Aloudi, focused on further strengthening the trade relations between Cyprus and the United Arab Emirates (UAE). Ms. Pileidou accompanies the President of the Republic on his official visit to Dubai.
The two Ministers explored the prospects of increasing trade flows between the two countries in goods and services, as well as ways to develop cooperation entrepreneurs from Cyprus and the UAE in specific sectors, such as aquaculture and animal husbandry.
Ms. Pileidou also referred to the effort of Cyprus to promote Cypriot products that have export potential, such as medicines, halloumi and other products that have been registered with a Designation of Origin.
In addition, during their meeting, the two Ministers discussed the possibility of cooperation between the two countries in the hotel sector, but also between universities. Dr. Thani Ahmad Al Zeyoudi, former Minister of Climate Change and Environment of the UAE, also discussed the prospect of bilateral investment in major Renewable Energy (RES) projects, with special reference to floating solar parks and electricity interconnection Israel – & nbsp; Cyprus – Crete.
The Minister, after analyzing in her counterpart the competitive advantages of Cyprus as an international business center, as, among other things, the offer of a comprehensive range of high level services, informed him about the operation of the "Investment Facility Unit". The Unit, Ms. Pileidou explained, aims to quickly and efficiently process requests received from foreign companies for the establishment and operation of a company in Cyprus and, therefore, can help UAE companies to operate in the EU. Respectively, the Minister of Foreign Affairs The UAE Minister briefed the Minister on the procedures in place in the UAE to facilitate the activity of Cypriot businessmen in the country.
The two Ministers finally agreed to appoint a responsible project team from each country as well as the creation of technical groups, to promote what was discussed for the strengthening of trade relations between Cyprus and the UAE, with Ms. Pileidou also proposing the undertaking of joint initiatives, such as the organization of trade missions and seminars, with the participation of the private
Tomorrow Thursday the Minister of Energy & nbsp; will be one of the speakers at the Business Forum organized at the Dubai, in the presence of President Anastasiadis. Ms. Pileidou will develop investment opportunities in the green energy sector.