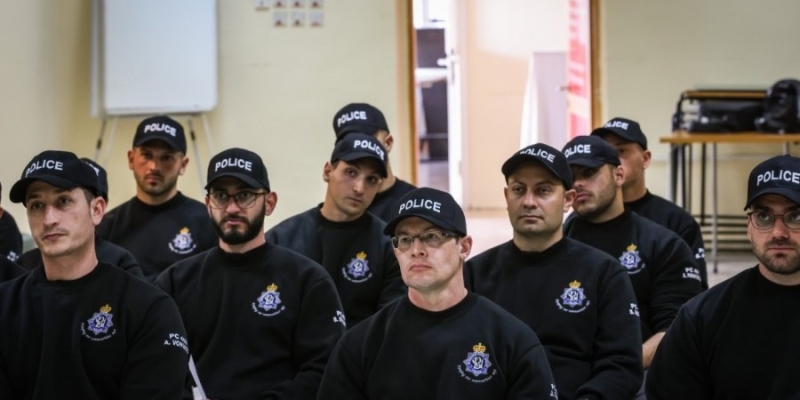 A total of 32 new recruits have completed their first week as BB police constables after taking their official oath in Dekelia last week.
The constables, who are made up of Greek Cypriots and Turkish Cypriots, are now starting an intensive period two-year probationary period where they will be trained in every aspect of law enforcement.
The swearing-in marked the largest recruitment of new constables into the B.B. months apart.
Senior Constable of Dekelia Markos Petrou oversaw the demanding recruitment process and revealed that these latest recruitments of officers put the BB Police in an excellent position.
He said: «With the recruitment of 32 new constables, the BB Police is now in full force. We have lost staff over the last few years due to retirement but now we have been able to replace them and we are looking forward to the future, this is great news.
New recruit Christos Gerimos from Deryneia said he was looking forward to the challenge ahead of him, and explained: "There is a lot of excitement about becoming a police officer, but I know it will have challenges.
"I always wanted to. to become a police officer because you get to meet and help people and I already like the new work environment.
«The whole process to get here took almost a year, but now that I have gone through all the different stages , I am very excited to start.
Turkish Cypriot Gul Akgouchlou who lives in Famagusta was equally excited, she said: "I am very excited to meet all these new people. I'm really looking forward to starting work after almost a year of tests I had to go through during the recruitment process. I've studied hard and given it my all and now I'm finally here and ready to make a difference.
Also read: Vehicles impounded during checks- One was 'teased'