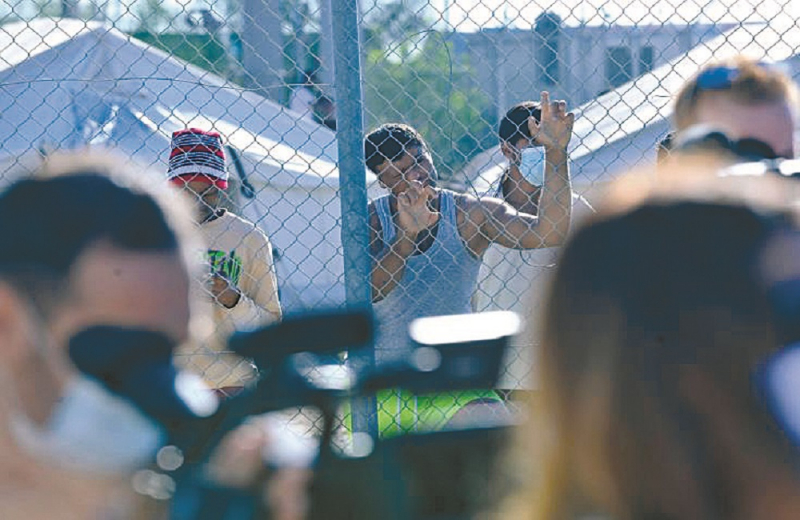 The President of the Republic Nikos Anastasiadis is going to Pournara, the Center for the Reception and Hospitality of Immigrants, this morning, accompanied by the Minister of Interior Nikos Nouri, the Deputy Minister of Welfare Anastasia Anthousis, the Commissioner for Administration and Protection of Human Rights and Human Rights Protection of the Rights of the Child, Despo Michailidou.
According to government spokesman Marios Pelekanos, the purpose of the visit of the President of the Republic is to find out for themselves and to examine on the spot the situation prevailing in the area of ​​temporary accommodation.
According to Mr. Pelekanos, a wide-ranging official meeting will follow to examine the situation in Pournara at the Presidential Palace.
Inside accommodation, says the Ministry of Foreign Affairs
Meanwhile, the Minister of Interior, Nikos Nouris, gave an answer to what has been discussed in recent days regarding the living conditions in Pournara. The 356 declared as minors were never left out of accommodation, Nikos Nouris assured. "Despite the huge number that has gathered in Pournara, which is far beyond the capacity of the Center, the 356 registered as minors have never been left out of accommodation, which has heating and air conditioning," he said, adding that "everyone lives in such facilities ». He noted that "nevertheless, recognizing the large number we receive at the Center, and despite the fact that adequate nutrition is provided, such as the relevant specifications and everything that must be provided to them, on the initiative and instruction of the Minister of Interior, the 90 have been moved. from minors in a hotel unit in Larnaca, which is rented by the Ministry of Interior, in an effort to unload the Center ".
The processes have yet to be completed, so that their possible temporary relocation will be possible in the next few days, despite the fact that the issue of relocation outside Pournara is not the responsibility of the Ministry of Interior. He also assured that in cooperation with the Social Welfare Services they will assist in this effort, in order to unload the Center and give the best of conditions.