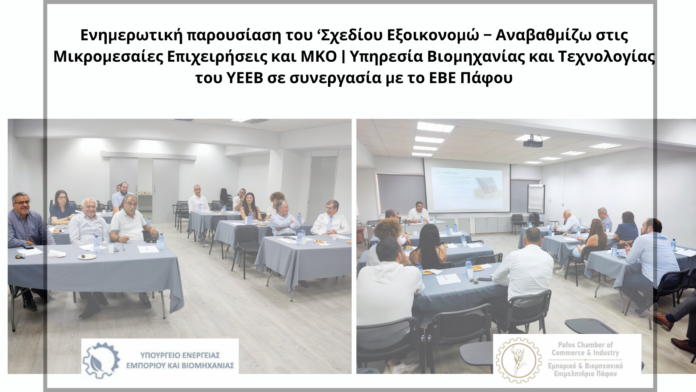 Industry and Technology Service of the YEEB in collaboration with the Paphos EB
On Thursday 22.06.2023, at 12:00 o'clock at the offices of the EBE Paphos, an informative presentation of the 'Save – Upgrade Plan for Small and Medium Enterprises and NGOs' was held. The Plan was presented by the Director of the Industry Service & of Technology of the YEEB Mr. Takis Fotiadis together with the Senior Officer Mr. Andreas Lizidis, Responsible for Financial Programs, while many members of the Chamber as well as a delegation of the Board of Directors of the YEEB Paphos had the opportunity to attend.
The aim of the presentation was to inform the businesses after they had the opportunity to explain the Guide and the basic details of the Plan, the necessary conditions for the potential beneficiaries as well as the eligible costs of the Plan.
Mr. Takis Fotiadis and Mr. Andreas Lizidis started the presentation of the program emphasizing that the Grant Scheme aims to promote energy saving investments in buildings and facilities owned and/or used by small and medium enterprises and non-profit organizations. Specifically, energy efficiency measures are targeted at existing buildings, as well as at existing facilities, infrastructures and production units that currently have high energy consumption. The main objective is to reduce the consumption of primary energy by 30% on average by all the supported companies.
At the same time, the attendees were informed about the deadline for submission of applications which was set at 12/21/2023 and it was reported that the total amount that will be allocated for the needs of the announcement amounts to €40 million, of which €35 million concerns SMEs, €1 million for aquaculture and €4 million for NGOs, while the amount available for new applications is €29 million.
There followed a discussion and questions from the participants in order for businesses to obtain as much information as possible about the project.
The President of the Chamber Mr. Mais emphasized the need carrying out such informative presentations, so that the Business world receives full information and can participate in financing programs where the benefits will be multiple and two-way.