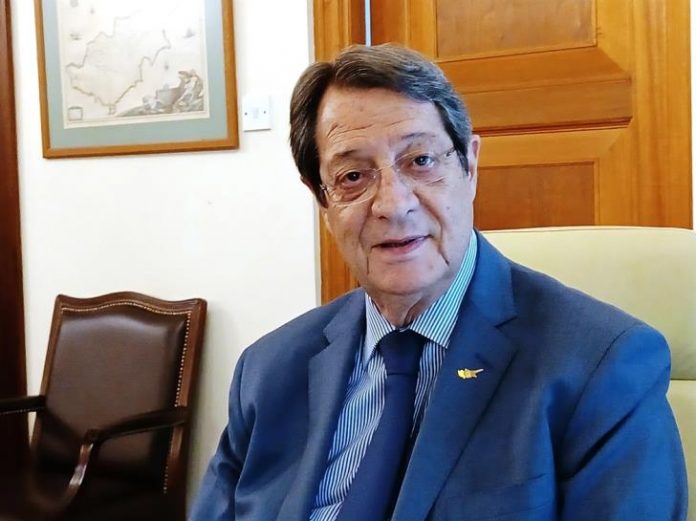 The President of the Republic Nikos Anastasiadis sets a "red line" and sends a clear message in various directions, both regarding the developments in the Cyprus issue and in relation to the next day of the Turkish President's visit to the occupied territories and the effort to impose new accomplishments on the ground. .
In an interview with "F", Nikos Anastasiadis answers to the Turkish President about the new expansionist action of Turkey and the occupation regime in Famagusta. At the same time, it gives answers to the obsession of the occupying power for a solution of two states and maintains that:
1st: It is not going to be accepted as a prerequisite by the Turkish side the recognition of the sovereignty of an illegal organization that will condemn any attempt of talks to failure, in order to serve the goal of the two-state solution.
A message addressed not only to the Turkish side but also to the international community. Especially those international players, who are used to turning their pressure on Nicosia for the resumption of negotiations.
2nd: No discussion for a solution of the Cyprus problem can take place outside the parameters of the UN and those mentioned in the relevant resolutions on the form of the solution of the Cyprus problem. The only goal is the creation – through the solution of the Cyprus problem – of a functioning, viable and federal state.
At the same time, it declares the Government's determination to take unilateral measures in response to Turkish moves in the enclosed area of occupied Famagusta. The measures will include, among other things, the removal of travel documents of the representatives of the illegal occupation regime, indicating that anyone who violates the Constitution of the Republic of Cyprus by supporting the division can not hold its official documents. There is a list of these people.
He also leaves clear points to the UN Secretary General, whom he accuses of lack of objectivity regarding the Security chapter in the discussions that took place in Crans Montana.
He gives answers both to the internal message and to the prompts, coming from AKEL, for utilization of his proposal regarding the lure of natural gas to Ankara, referring to the convergence for the management as well as for the sharing of the revenues.
Philenews