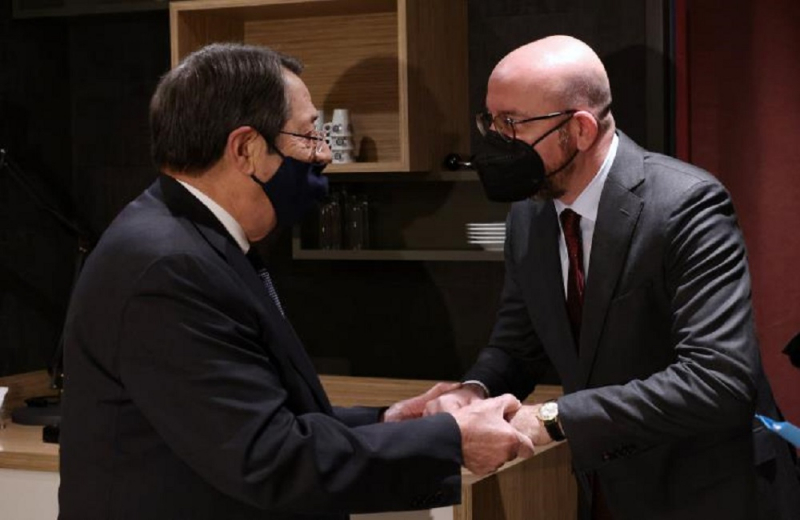 President Anastasiadis briefed European Council President Charles Michel on Thursday night on efforts to resume dialogue on the Cyprus issue. The meeting took place in Brest, France.
A written statement by Government Spokesman Marios Pelekanos states that during a working meeting with the President of the European Council, President Anastasiadis briefed Mr. Michel on the efforts being made to resolve the stalemate and resume the process of resolving the Cyprus issue. at the time of his disappointment at the continuing refusal of the Turkish side to accept the appointment of an envoy of the UN Secretary-General.
The President of the Republic also referred to his proposals for the adoption of a substantial package of Confidence Building Measures aimed, on the one hand, at cultivating a positive climate that would facilitate the preparation of the ground for the resumption of negotiations on the Cyprus Agreement within the framework of the , on the other hand, the cessation of Turkish illegal actions on land and at sea, which are harmful to Cyprus and its people, Greek Cypriots and Turkish Cypriots, to the wider region and the European Union itself.
President Anastasiadis, according to the JC, asked for the help of the European Union for the promotion and implementation of the specific Confidence Building Measures, which, as he said, are supported by Turkish Cypriot organized groups, while encouraging the undertaking of initiatives by the EU. of the Cyprus issue, which are certainly complementary to the Good Services of the UN Secretary General.
Furthermore, and on the occasion of yesterday's unacceptable incident in Denia, President Anastasiadis did not fail to denounce the harassment of Greek Cypriot farmers by Turkish troops observed in one of the Dead Zones.
The President of the Republic also expressed disappointment with the continuing provocative statements by the Turkish Government, referring to what the Turkish Foreign Minister said today, who once again rejects the agreed basis for a solution to the Cyprus problem and puts forward various pretexts on the issue. future revenues from the exploitation of Cypriot gas fields, despite the fact that the rights of the Turkish Cypriot community are fully guaranteed.
The two leaders also had the opportunity to exchange views on international developments, including the Ukrainian one and the efforts for a diplomatic solution in the "Normandy Figure", the developments in the Armenia-Azerbaijan relations, etc.
ΚΥΠΕ