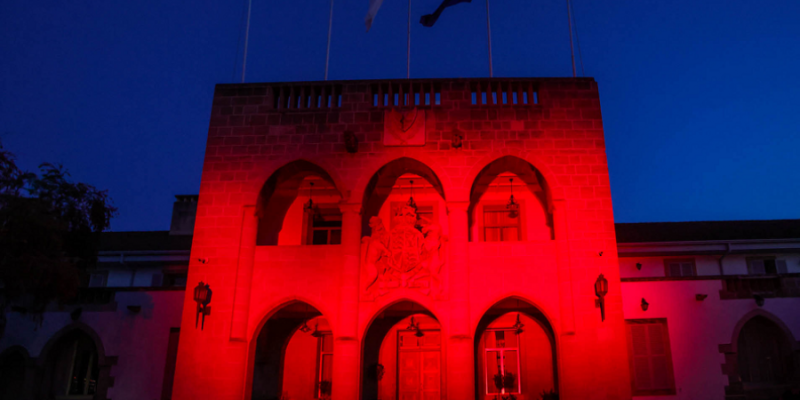 The State is and will continue to be by the side of our thalassemia compatriots, said on Monday evening the Deputy Government Spokesperson, Doxa Komodromou, who attended the red lighting ceremony of the Presidential Palace, on the occasion of World Thalassemia Day 2023.
As stated in a statement from the Presidency of the Republic, Mrs. Komodromou referred, among other things, to the excellent work carried out by the Pancypriot Anti-Anemic Association and to the continuous efforts it has been making, for 50 years, to address the problems faced by our fellow human beings with thalassemia .
As Mrs. Komodromou said, "with tonight's lighting in the color that symbolizes the blood donation, the message is sent that the State is and will continue to be on the side of our thalassemic compatriots».< /p>
Furthermore, he noted that "President Christodoulidis and the Government support the institution and recognize the work of the National Thalassemia Committee, whose goal is to improve the services provided in the field of thalassemia (and other hemoglobinopathies) in Cyprus, both in terms of it concerns prevention, but also its treatment".
Of exceptional importance, said the Deputy Government Spokesperson, "is the development of the National Strategy for Thalassemia and other Hemoglobin Diseases, which was developed by the said Commission, in order to contribute to a better future for patients, given the large number of people with thalassemia in our country.
"With the implementation of this national strategy, actions are promoted, protocols and procedures are adopted, in order to upgrade and ensure the quality of life of people with thalassemia,", he added.
Furthermore, Mrs. Komodromou called as as many volunteers as possible to become regular blood donors to meet the great needs in our country and appealed to them to further contribute to the efforts to raise public awareness about thalassemia.
Finally, she expressed her thanks to the volunteer blood donors and blood donors, adding that with voluntary blood donation the island's self-sufficiency in blood will be achieved and lives will be saved.
It is noted that as part of the events organized by the Pancypriot Anti-Anemic Association, the building of the House of Representatives, the Ministry of Health, the City Halls of Nicosia, Limassol, Larnaca and Paphos, as well as other important buildings and monuments in all cities.