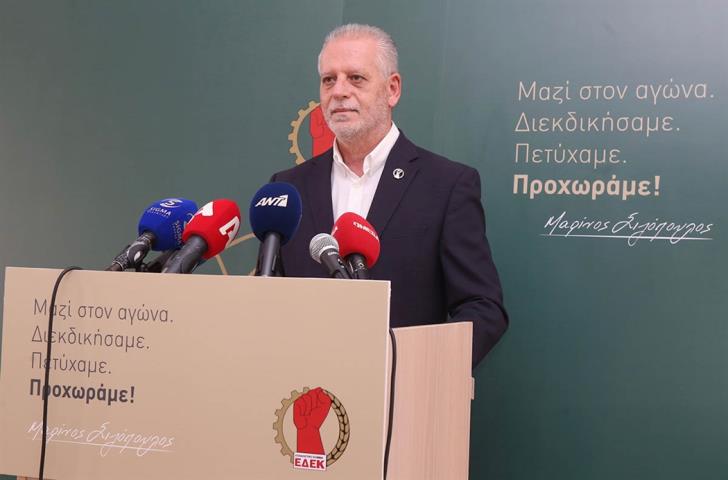 In a new round of meetings with parties, in the context of the consultations in view of the 2023 presidential elections, EDEK enters this and next week, keeping open doors to the existing elections, said today in a statement the President of the party, Marinos Sizopoulos. Speaking after the wreath-laying ceremony in memory of Vassos Lyssaridis at the cemetery of Constantine and Helen in Nicosia, on the occasion of the one-year anniversary of the death of the historical leader of EDEK, Mr. Sizopoulos responded to questions regarding the party's stance amid the turmoil for the upcoming presidential election.
READ ALSO: Christodoulidis maintains a distance of 20 points
As he said, the pre-election scenario is still fluid, with EDEK proceeding to a new round of meetings, to investigate the possibility of cooperation or coexistence. "We will inaugurate this week and possibly next meetings with parties which we consider to be closer to EDEK, in matters of the Cyprus issue, but also in matters of social and economic policy," said Mr. Sizopoulos, noting that The attitude of his party will depend on the final decisions that will be taken by the other parties, but also on the formation of the political scene.
"EDEK has publicly taken a position on our positions and intentions" , he explained and added that "our position depends not only on us, but also on the other party forces, depending on what their own actions and decisions will be", clarifying that EDEK will take its own decisions "with full transparency and in a democratic way ".
Answering a question about whether EDEK keeps open doors in the options that exist so far, he answered that from the action so far and public positions on the part of the party, this is obvious.
Referring to the filing ceremony in memory of Vassos Lyssaridis, Mr. Sizopoulos said & nbsp; that through it, the executives and the leadership of the party assured that they will continue the same struggle "without deviations and deviations, until the freedom of our homeland, until the justification of the people for democracy and socialism ".
He also stated that, although a year of biological absence of Vassos Lyssaridis was completed," nevertheless his path as a politician, as a poet, as a painter, as a doctor, remains stable roadmap in the course that EDEK follows and will continue to follow, in terms of resolving the Cyprus problem, the liberation of our country from Turkish occupation and the creation of a rule of law, for the benefit of of all citizens ".
KYPE