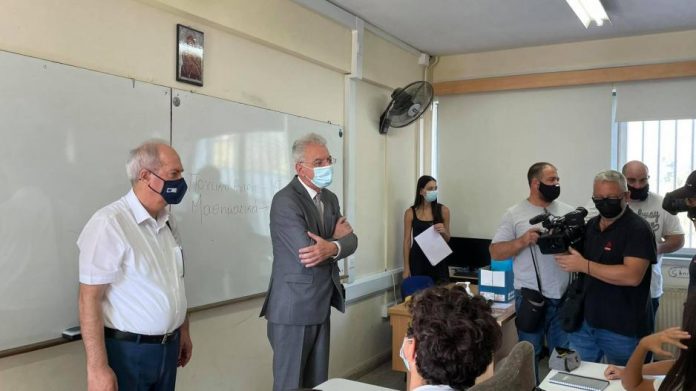 The new school year for secondary education has started smoothly, the Minister of Education, Prodromos Prodromou, told reporters after his visit to the Acropolis High School.
"We have to stay vigilant, the pandemic is here, and an information booklet is being distributed to children to reach their parents. In secondary schools we operate with a health certificate as in June ".
The message about vaccinations
The important change this school year, as the Minister noted, is that students can be vaccinated against Covid-19 disease.
"We need to do what we can to encourage children to gradually get the vaccine to feel safe and individually for their own health and collectively for each of their neighbors."
He thanked the teachers for their dedication, zeal and efficiency.
"The fact that the school year started smoothly is mainly due to the Departments and teachers. We do not come to school to practice health insurance, it is necessary to do what is our main task, the learning and cultivation of children, we must not forget it is the third year that we operate in a pandemic. Fortunately, the schools can operate with a physical presence and we hope that we will give the children a quality education.
Delay in control .. Safepass
Asked if he is concerned about the small delay observed at the Acropolis high school regarding the control of students for safepass, Mr. Prodromou said,
"It will not be the same then, almost all teachers have been shown to be vaccinated. So they will not be checked daily, as well as a portion of students. "You know that vaccinations for 12-16 year olds have only recently started, as long as children are vaccinated they will not need this safepass procedure."
As for the much-discussed issue of single-seater desks, Prodromos Prodromou threw the ball to the school ephorates.
"The school boards should make the right distribution, the desks are there, I guess in some schools they have given desks in some rooms and in some others they have not managed yet. It is a simple and practical matter, we have desks available much more than they needed ".
source: alphanews.live
RUN and POWER Group: Enhanced Living Experience.